Online Series: Four Stories about a Fox (Puppet Show on La Fontaine)
Date:
01 MAY - 30 JUN 2023
Admission :
Free to the public. The videos are available on French May's website and YouTube channel from 1 May onwards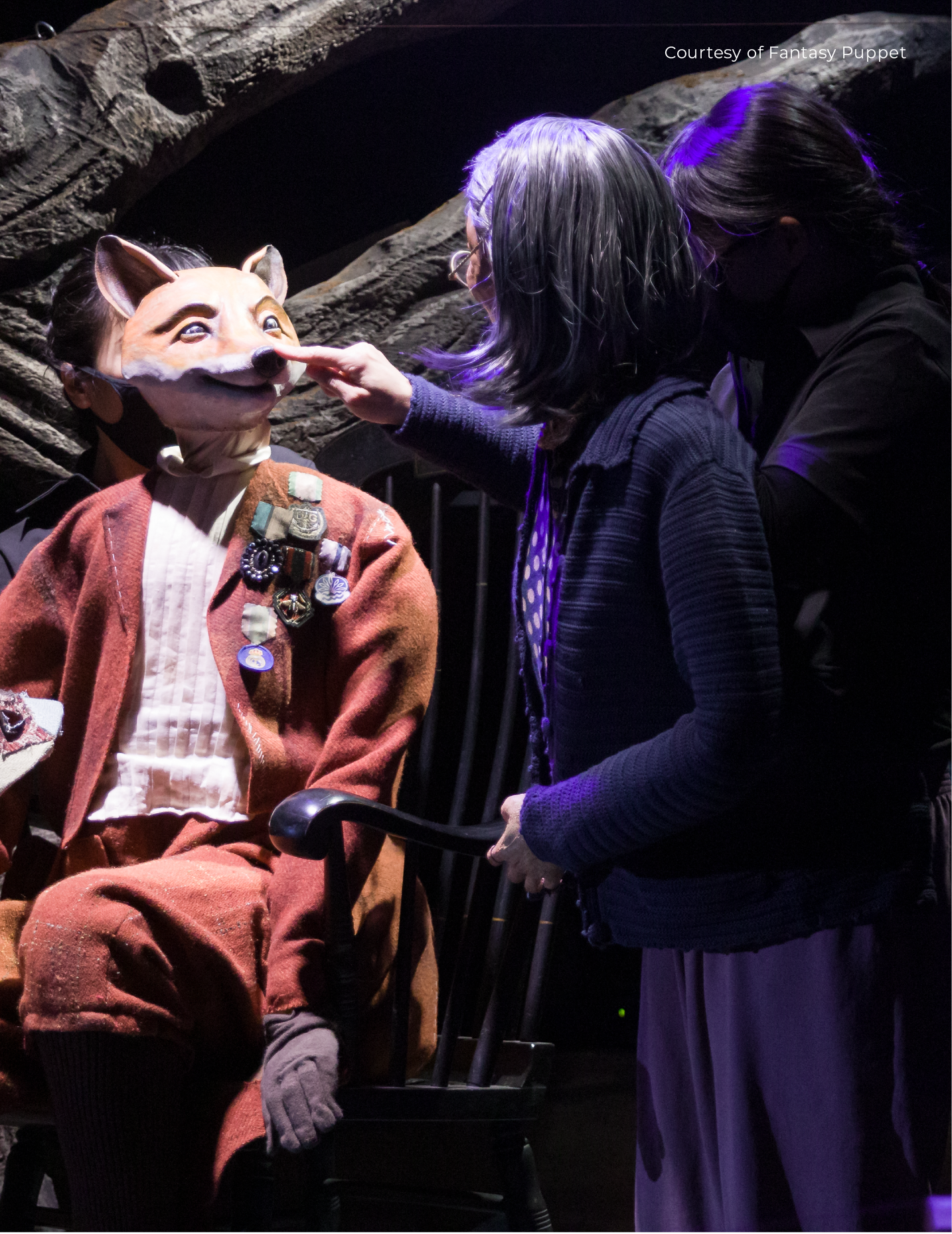 Online Series: Four Stories about a Fox (Puppet Show on La Fontaine)
In La Fontaine's Fables, the fox is a recurring character. Foxes have been stereotyped for centuries as cunning, treacherous, quick-witted and greedy. As the centuries passed, the fables faded, and the fox's magic failed. Through modern puppetry short films, Chen Ying Ching, Artistic Director of the Fantastic Puppet Theatre, reinterprets stories about the fox in La Fontaine's Fables, which are adapted by established musician Chan Wai Fat. These four stories about the fox connect to each other, while developing independently at the same time.
The Fox and the Leopard
The fox was very particular about his appearance. One day, the fox and the leopard were arguing about which of them was more good looking…
The Fox with Nowhere to Hide (adapted from The English Fox)
Chased by several hounds, the fox had no way to escape. When the desperate fox felt that he had nowhere to hide, he came up with an idea…
The Fox's Tail (adapted from The Fox with His Tail Cut Off, The Fox, the Flies, and the Hedge-Hog)
Wounded by a hunter, the fox dripping with blood, and finally fell down on a muddy path, attracting many flies to bite him. The fox felt that his tail was just a useless burden when he tried to flee for his life. At this moment, the fox met a hedgehog...
The Fox and the Mask
The fox came to an actor's house and saw an exquisite mask of a monster…
Creative Team List
Story adaptation & producer: Chan Wai Fat
Director, puppet design & production: Chen Ying Ching
Filming & post-production: Wilfred Wong
Technical manager: Yip Wai Bun
Performance: Fantasy Puppet Theatre
Main performer: Leung Tin Chak
Chen Ying Ching
Professional puppeteer from Taiwan, Chen followed Hoshikawa Yoshio and Nishikawa Koryu Troupe to study traditional Japanese puppetry and Hachioji Kuruma Ningyo respectively from 1996-99. She then moved to Hong Kong and co-founded Fantasy Puppet Theatre later in 2005. Her creations include The Sleeping Gypsy, Fantasy at an Exhibition, The World Behind the Shadow, Blessing of the Banyan Tree, Season of the Sweet Gum, Fruit Story, Happy Days Toy Shop, Hairy the Little Macaque, Show Me Once, Let Me Free, Fruit Story 3, etc.
She was also frequently invited and commissioned by different organisations including Standard Chartered Arts in the Park, Macao Cultural Affairs Bureau and The Charles K. Kao Foundation, and participates in various theatre productions. She recently created an online video programme Light Comes In for WeWeWebWeb Carnival organised by the Leisure and Cultural Services Department.
Wilfred Wong
Graduated from the Hong Kong Chinese University of Hong Kong, Wilfred Wong participated in various types of creations as an independent artist. His previous works include Mountains, Seas, Panorama (dance videography curator and director), Helen Lai's The Island Whispers (dance videographer director), On & On Theatre Workshop's Waking Dreams in 1984 (video director), "The Heroine Within"(MV director), Fantasy Puppet Theatre's Madam Sew (video designer), Community Cultural Ambassador Scheme 2016/2018 My Daddy, My Flying Car and Me (director, curator), Blue Ka Wing's work for the Hong Kong Arts Festival The Invisible S (dramaturge, multimedia designer), and more.
Recently, Wong's works God Limps and 9 have been selected by numerous international dance film festivals, and were screened in Berlin, Brussels, Madrid, Palma, Nicosia, Amsterdam, Hong Kong etc. He also received several awards, including"Mención especial Fiver" by the Fiver International Screendance Movement, and "International Dance Film Award" and "Audience Award" by the Jumping Frames – Hong Kong International Movement-image Festival.
In 2020, Wong was commissioned by the Jumping Frames – Hong Kong International Movement-image Festival to create the dance film Mountains, Seas, Panorama, which was featured in the 74th Festival de Cannes Cannes Court Métrage - Short Film Corner catalogue.
Chan Wai Fat
Graduated from the Music Department of the University of Hong Kong, Chan is a composer, sound designer, musician and producer. Chan produced Fantasy Puppet Theatre's short videos Light Comes In, as well as 2021 and 2022 18dArt Community Arts Scheme Wherefore Tai Po.
Since 2004, Chan has been collaborating with various art groups, and participated in over a hundred productions. He was nominated by the Hong Kong Drama Federation of Drama Societies for the best sound design and the best music. He was awarded the best sound design with POP Theatre's Eight Hundred Years of Hatred, Eight Hundred Years of Healing (2012). He was even awarded the best sound design and the best music for four time with Hong Kong Repertory Theatre's productions Shed Skin (2012), Attempts on Her Life (2015), Hu XueYan, My Dear (2017). Chan;s recent works included composing for Hong Kong Repertory Theatre's The Top Restaurant and Love à la Zen, and acting as the music director and live musician for Show Me Your Love!, a play that features Wong Tsz Wah and Jan Lamb.
Yip Wai Bun
Yip is a children art educator and at the same time the director of Fantasy Puppet Theatre. With his love for puppetry, he founded the Fantasy Puppet Theatre with Taiwanese puppeteer Chen Ying Ching in 2005. His recent creations included Blue Fruit Tree in the Fog (2023) and Madam Sew (2021).
All the content of works are independently produced by the organiser/creative team, and do not reflect the views or opinions of The Hong Kong Jockey Club Charities Trust.
Presented by


Exclusive Sponsor