Jeux Thèmes Variations
Date:
03 MAY - 16 SEP 2023
Time:
Hong Kong Visual Arts Centre, Weekday: 11am – 7:30pm; Weekend: 11am – 8:30pm | Alisan Fine Arts – Aberdeen, Wed – Sat: 10am – 6pm
Venue:
Hong Kong Visual Arts Centre & Alisan Fine Arts – Aberdeen
Admission :
Free admission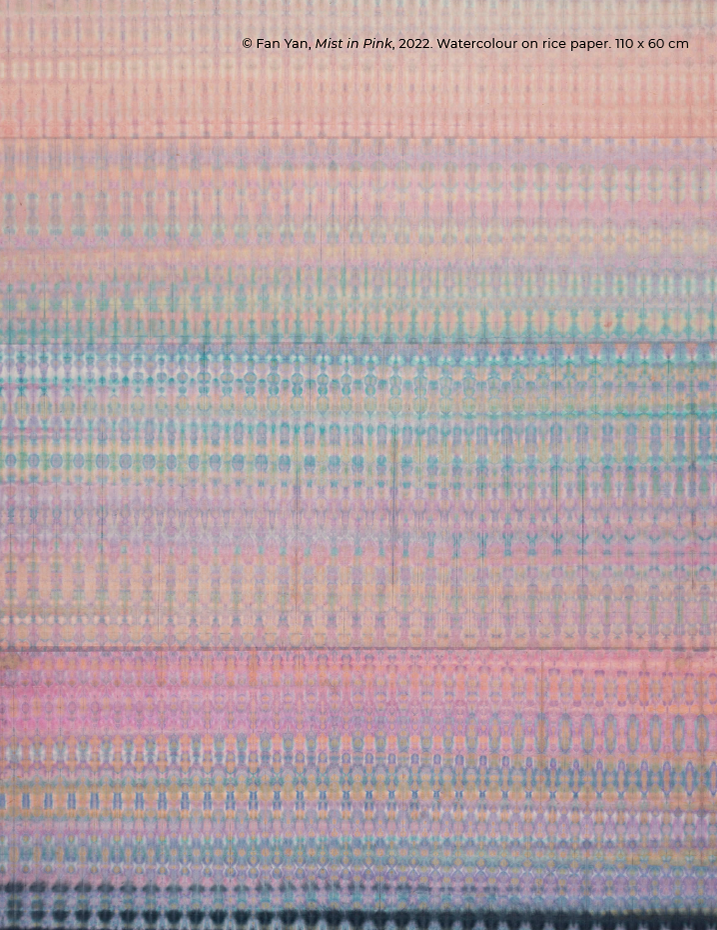 Jeux Thèmes Variations
Alisan Fine Arts is pleased to announce our first solo exhibition for contemporary female painter Fan Yan, featuring her new series Mist and Ostinato at Aberdeen Gallery, and the sponsorship of Fan's exhibition at Hong Kong Visual Arts Centre. Her latest series, Mist, is inspired by the subtle changes of sea mist. Fan expresses the rhythm of water and moisture with repeated and precise folding patterns on rice paper. The pink and soft colour tones are filled with the vitality and beauty of nature.
Trained as a classical musician, Fan Yan was a viola player with Hong Kong Philharmonic, prior to devoting herself to painting in 2011. Using her music background, her works incorporate musical elements, such as her new B/W series Ostinato which is inspired by the Dutch composer Simeon ten Holt (1923-2012)'s Canto Ostinato. The works in the exhibition are like musical pieces presented visually, giving the audience a new way to experience music and art. In conjunction with the show, a live performance will be featured during the opening at the Hong Kong Visual Arts Centre, including a flute solo by Megan Sterling where she performs the music of French composer Debussy's (1862-1918) Syrinx. The mini concert including string quartet by Philip Glass will be held on 3 June, 4:30 – 4:45pm at the Aberdeen gallery. Seating is first come first served.
Artist statement: "In Ten Holt's Canto Ostinato, he wrote a short melodic phrase performed on four pianos, where the canto repeats in a constant rhythmic pattern. The effect is to create a shifting foundation of a circulating 'obstinate' song. My technique of folding rice paper in dye to produce patterns that vary slightly in depth and intensity echoes the repetitive yet changing music patterns of the Canto Ostinato. The way I 'compose' painting is how I imagine a musician reading a music score. A visual score, so to speak, inviting audiences to visualise images, forms and patterns of sound vibrations, and inspire all."
---
Dates
3 – 8 May 2023 at Hong Kong Visual Arts Centre
13 May – 16 September 2023 at Alisan Fine Arts – Aberdeen
Biography
Born in a family of musicians in Beijing, Fan Yan was a classically trained violinist and viola player from a young age, while at the same time she was drawn to painting. She came to Hong Kong to study at Hong Kong Academy for Performing Arts in 1987. After graduation, she played with the Hong Kong Philharmonic Orchestra for 20 years. In 2011, she began to devote herself to painting, realising her life's dream. She studied ink painting with Hong Kong ink painter Tianxing Lam, and was inspired by Western masters such as Henri Matisse, Paul Klee, César, and Marlene Dumas. With an experimental artistic practice, Fan constantly explores the interpretation of various elements of music with a new unique visual language. In 2020, she won an award at the UOB Art in Ink Awards, and in 2020, she was selected for Ink Global in Hong Kong. She has also exhibited in Korea, Singapore, and Russia.
---
SELECTED SOLO EXHIBITIONS
2022 French May Arts Festival, Hong Kong
2021 Polyphony, Compo Marzio concept store, Tai Kwun, Hong Kong
SELECTED GROUP EXHIBITIONS
2022 Light Up, Goethe-Gallery, Hong Kong Arts Centre, Hong Kong
2020 Ink Global, Hong Kong Convention & Exhibition Centre, Hong Kong
2019 Singapore Affordable Art Fair, Singapore
2018 Hong Kong Contemporary Female Artist Exhibition, Saint Petersburg State University, St. Petersburg, Russia
2017 Shenzhen International Art Fair, Shenzhen Convention & Exhibition Center, Shenzhen, China
2016&17 Incheon Global Art Exhibition, Incheon, Korea
2016 3rd Asian Watercolour Expression, Bandung, Indonesia
2013 Awakening, Hong Kong Visual Arts Centre, Hong Kong
SELECTED AWARDS
2020 Bronze award, Abstract Open Category, UOB Art in Ink Awards
2020 Selected into Ink Global, one of the 500 ink painting of the year
Hong Kong Visual Arts Centre — Venue Sponsor | Alisan Fine Arts – Aberdeen — Exhibition Presenter


Supported by