Je t'aime... moi non plus
Date:
10 JUN - 11 JUN 2022
Venue:
Hong Kong City Hall Theatre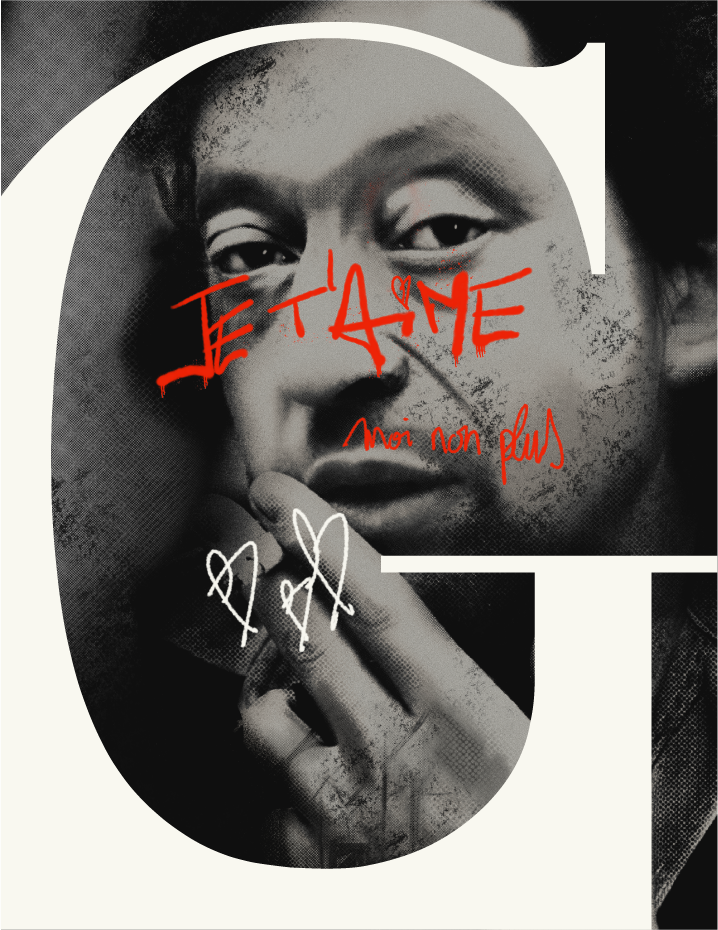 Je t'aime... moi non plus
French May Arts Festival and Alliance Française de Hong Kong proudly present Je t'aime… moi non plus, a tribute concert to Serge Gainsbourg, the world-famous music icon influencing French culture and lifestyle since 1960s.
Curated by Hong Kong Jazz Singer Angelita Li, together with local bands Alan Kwan's quartet and The Majestic G, the concert aims at breaking the barriers of language, culture and arts, definitely an atmospheric evening you can't miss!
The concert will be artistically translated to the communities with hearing impairment, in hope of spreading such valuable artform to a wider audience.

Creative Team List
Curator: Angelita Li
Bands: Alan Kwan's quartet, The Majestic G
Alan Kwan's Quartet
Alan Kwan
Alan Kwan is an award-nominated jazz guitarist, composer, producer and educator. Kwan was born in Hong Kong and started playing guitar at the age of 14. Kwan devoted himself to jazz under the tutelage of local jazz musicians Ted Lo and Eugene Pao before embarking on his journey as a jazz artist. In 2009, Kwan moved to the United States to further pursue his studies in music at the University of North Texas and studied privately with David Berkman, Paul Bollenback, Stefan Karlsson, Rodney Jones, as well as many other renowned musicians. He took his pursuit of jazz music further by completing Master of Music in Jazz Performance at Queens College, City University of New York in 2017.
Kwan has actively performed in New York, Texas, Tokyo, Taiwan and Hong Kong. He has performed or recorded with a number of well-known jazz musicians with performances ranging from jazz gigs, stage performances to outdoor performances.
Kwan appeared on various music festivals and received three nominations including the best album, best album producer, and best composition for the 31st Golden Melody Awards. Alongside his performance career, Kwan has been invited to conduct master classes in Hong Kong and Taiwan. He was also a semi-finalist of the International Songwriting Competition in 2016-2018.
---
Padget Nanton
Padget "Fresh Kid" Nanton III is an American Drummer/Producer best known for his innovative approach to music.
Born and raised in Jacksonville Fl, Fresh Kid began to display uncanny rhythmic ability at 6 months(to his mother's testament). Utilizing whatever was around, from pots and pans to junior kits to full size, Nanton developed his ability further and began sitting in at various churches, clubs and recording sessions locally. His skills were cultivated even further through encouragement and invitation by the likes of Kirk Franklin, Kim Burrell, Donnie McClurkin & Yolanda Adams to name a few. Through hard work and years of focus on his craft, Padget would win many competitions and awards, all while cutting his teeth touring some of the most well known rock and pop circuits. As momentum built, Nanton would garner international attention as well. In April 2017, Fresh Kid was hand selected by Chinese superstar G.E.M.to join her on her world tour 'Queen of Hearts'.
G.E.M. enjoyed Fresh Kid's musical leadership and interaction so much to the point that she added a "drum-off" segment as a permanent fixture in the show.
In 2019 Fresh Kid would receive another call to the stage from legendary entertainers Bobby Brown ('My Prerogative') and Bell Biv Devoe ('Poison') to perform with RBRM for Billboard Live.
This was followed by a call from sensational pop diva Coco Lee (Mulan's 'Reflection', 'Before I Fall In Love') to join her on her "You and I World Tour". Fresh Kid is currently slated to resume touring with select acts in 2021, as well as producing and working on original music with his band Vigilant, and label artists.
---
Rayvaughn Covington
Born in Philadelphia, but grew up in New Jersey, U S A, Started playing bass at a young age of 11, studied at Sater's School of Music from 1978-1981.
Performed with many local bands in the US from 1981-1989.
Worked at Trumps Castle Hotel and Casino in Atlantic city, New Jersey from 1990-1997.
Worked with a band for Royal Carribean Cruise for 4 months.
Then came to Hong Kong in 1998, and worked at New World Hotel at Catwalk club for 8 months.
Got into the Music Entertainment Industry in Hong Kong and did some Recordings and Concerts for Hong Kong local Singer artists, Alex To, So Wing Hong, Sammy Cheng, Hacken Lee and many more. Currently on a Concert Tour with G.E.M, Sandy Lam, Khalil Fong and many other artists throughout Asia.
---
Scott Murphy
Hong Kong based Saxophonist/Clarinetist Scott Murphy graduated from the Royal Conservatoire of Scotland in 2014. During his extensive education at the RCS, Scott was lucky enough to share the stage with musicians of the highest quality such as Randy Brecker, Arild Andersen, Tommy Smith and Peter Erskine. This foundation led to him building a reputation as a much sought after voice in British music.
His playing credits in Europe include multi-genre collective Fat-Suit (including as bandleader and composer/arranger), the UK's flagship jazz orchestra the BBC Big Band and the minimalist improvisational group Graham Costello's Strata. Since moving to Asia in 2016
he has played with Kuala Lumpur based NewSound all over South East Asia including appearances at the Singapore Jazz Festival and the Borneo Jazz Festival.
After moving to Hong Kong in 2018 Scott quickly became an active member of the music scene in the city appearing with the likes of legendary guitarist John Stowell, drum master Kendrick Scott, saxophonist Will Vinson and local jazz hero Eugene Pao. He is regularly heard performing his own compositions with a variety of musicians in the city as well as further afield in China and Japan. He has been commissioned by Freespace Jazz Festival to compose brand new music for his large ensemble "Driftwood".
Outwith jazz, Scott can often be found playing various styles of music including Rock, Pop, Hip-Hop, Funk, Ska and Classical. He has appeared alongside artists such as Billy Ocean, Hins Cheung, George Lam, Pat Kane, RubberBand and Teresa Carpio as well as at world renowned venues such as Singapore Jazz Festival, London Jazz Festival, Glasgow Jazz Festival, Montreux Jazz Festival, Borneo Jazz Festival, Budapest Jazz Club, Marina Bay Sands and many more across Europe and Asia. Radio appearances include BBC Radio 1, BBC Radio Scotland, BBC Radio 3 as well as television appearances on MTV Asia, BBC (UK), TVB (HK) and local broadcasters from Ireland to Poland.
The Majestic G
The Majestic G (TMG) is an original funk/soul/contemporary music group, their members are all active music veterans in Hong Kong, spanning across a wide music spectrum including pop, jazz, soul, funk, rock, classical music, and traditional Chinese music.
TMG released their first single 'Sunrise' in June 2017, and has received rave reviews in Hong Kong and Taiwan!! 'Sunrise' reached No. 2 on Commercial Radio FM903 'Quotable Chart' (HK), and stayed on for 6 weeks!! In Taiwan streetvoice.com, the most significant and influential online platform for independent music, 'Sunrise' was No 1 for three weeks on their 'R&B/Soul/Blues/Jazz/Latin' chart, got their 'Expert Recommendation', and it was the most voted song on their 'The Next Big Thing(HK)' campaign. EP 'Wildrunner' was released in Jan 2018, available on all major digital platform worldwide and also as USB album format.
TMG was honoured to be the opening act for legendary Taiwan funk band 'Sticky Rice' at their Sticky Rice Live in HK 2017. TMG's performance was greatly received by the audience, and was hugely praised by Ma Nienhsien, lead vocal of Sticky Rice!
TMG is the winner of The Next Big Thing(HK) campaign and is performing in Taiwan in January 2018.
We are all connected by a universal vibration of life, and that vibe, is the source of our creativity. We strive to make music that pushes the boundaries, connects the dots and reflects our changing times.
Ticketing Information
Tickets are available at URBTIX from 21 April onwards
Full-time students, senior citizens aged 60 or above, people with disabilities and minders, CSSA recipients and card holders of Alliance Française de Hong Kong (Limited quota, first come, first served)
Group booking

5% off for 4 - 6 standard tickets
10% off for 7 or more standard tickets
Patrons can enjoy only one of the above discount schemes for each purchase.
In response to the government's latest social distancing measures, the seating capacity of the performance venue will be increased. French May will release more tickets to the public soon. Stay tuned to our Facebook and Instagram for further announcements.
Co-presented by


Exclusive Sponsor