GASTRONOMY & SPECIAL EVENTS
FRENCH GOURMAY
Date:
01 MAY - 31 MAY 2022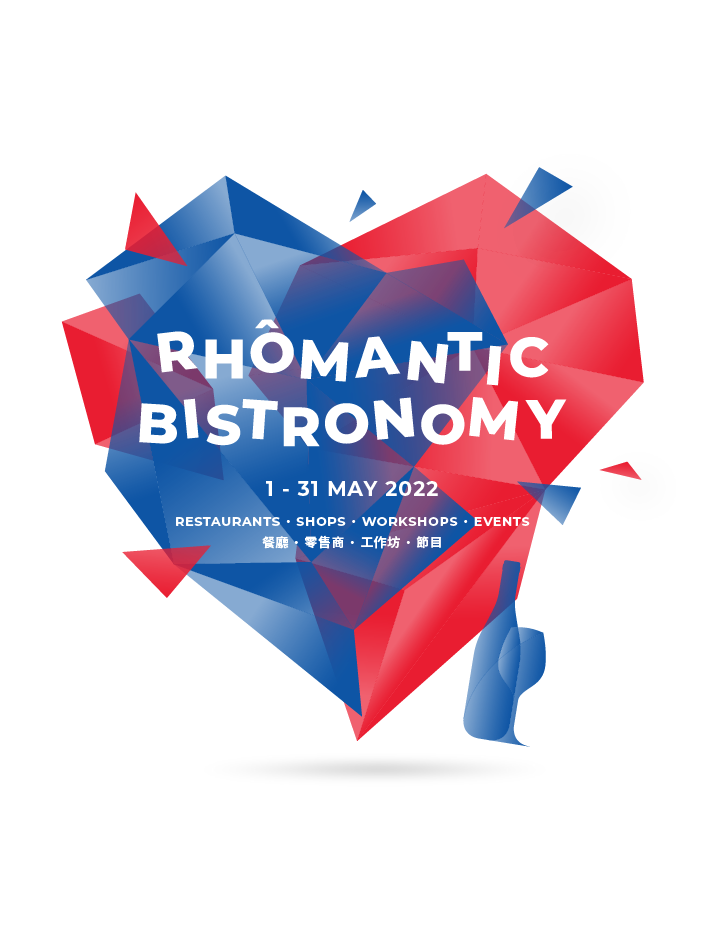 FRENCH GOURMAY
French GourMay is the one and only major festival in Hong Kong and Macau dedicated to gastronomy à la française, organised under the umbrella of French May Arts Festival. French cuisine is one of the few UNESCOlisted culinary cultures. Each year, we celebrate the unique culinary treasure in collaboration with one French region. For the 13th edition in 2022, French GourMay Food and Wine Festival will unbox the art on the plate and make gastronomic philosophies accessible to everyone. Let's also toast to our precious health with a glass of Côtes du Rhône wine!
Bistronomy Philosophy — Celebration of Gratitude
As a combination of bistro dishes cooked with seasonal produce and gastronomic haute cuisine methods, the philosophy of bistronomy prompts us to reconsider how to make the art of dining more accessible, engaging the people we love in a friendly environment. Perhaps the purpose of luxury is to celebrate memorable moments of gratitude, and such pleasure can also be enjoyed affordably, effortlessly, and above all, romantically.
Edible Romance — Art of Wine–pairing with Côtes du Rhône
We know true chemistry exists when we savour a well-executed food and wine pairing. The introduction of suitable wine can unleash the exquisite flavours of food, so that every bite becomes a gift from the terroirs. As the Wine of Honour this year, Côtes du Rhône's wines have over 2000 years of history and the region is one of the oldest wine regions in the world. Thanks to 23 different grape varietals, the best-known being Syrah, Grenache, Mourvèdre, Viognier, Marsanne and Roussanne, some native to the Rhône Valley, Côtes du Rhône wines have endless possibilities in terms of flavours and aromas. With a great selection of reds, whites and rosés from Côtes du Rhône, we will witness a perfect marriage on the table between food and wine.
An authentically satisfying meal is always full of colours like a piece of art: luscious meat, fresh vegetables, delicious dessert, glasses of wine and laughter. For an entire month in May 2022, we invite you to enjoy Rhômantic Bistronomy through our massive network of partners in Hong Kong and Macau. Chefs from gastronomic, fine dining and casual dining restaurants will pamper our palates with dishes inspired by the theme of unboxing art on the plate. Special promotion on Côtes du Rhône wines in retailers are available on your doorstep or at your fingertips. You may also enrich your dining or tasting experience via the learning programmes of our partners. Savour every bite, enjoy every sip - French GourMay wishes everyone: Bonne santé!
An Event Of


Organised by


Wine of Honour


Under the patronage of


Supported by


Friend of Festival