Online Series: String quartet masterclass by Tana Quartet
Date:
29 MAY - 30 JUN 2023
Venue:
Free viewing online
Admission :
Free viewing at French May's website from 29 May onwards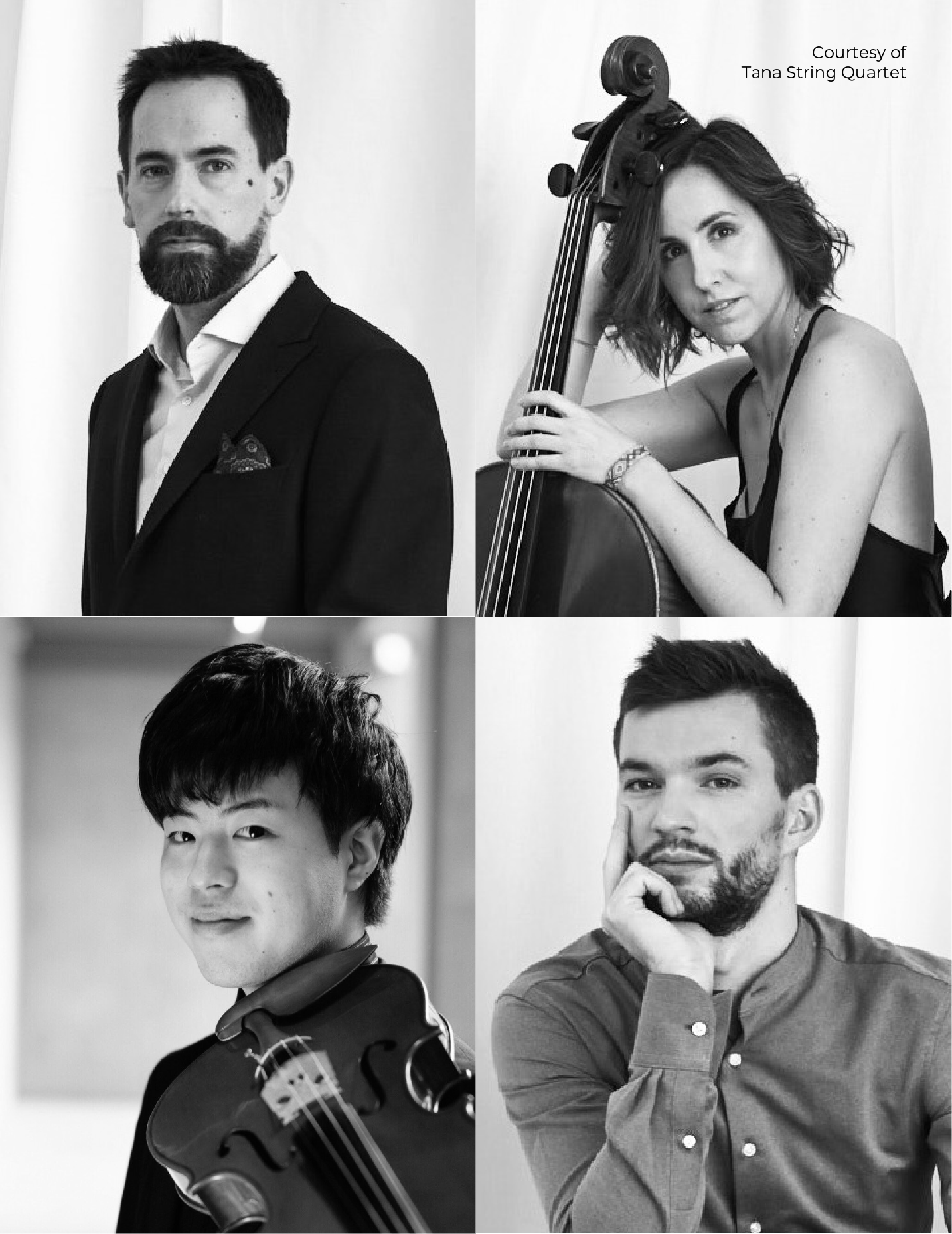 Online Series: String quartet masterclass by Tana Quartet
Tana String Quartet commissions numerous new works each year with the support of SACEM, and has given more than 250 world premieres since its founding. A string quartet for the 21st century, Tana juxtaposes fresh interpretations of beloved masterpieces with brand-new works by living composers.
In 2018, Tana String Quartet co-founded ARCO, an annual summer academy for young composers and performers. The quartet has given masterclasses at the Conservatoire National Supérieur de Paris, University of California Berkeley, and Shanghai Conservatory, among others. As teachers, they follow in the footsteps of their own mentors, Walter Levine, Eberhard Feltz, and the Jerusalem Quartet.
The masterclass is for young ensembles from the conservatory. It is given for about 45 minutes per ensemble by the 4 musicians of Tana String Quartet.
Conducted in English
Creative Team List
Founding Violinist: Antoine Maisonhaute
Violinist: Ivan Lebrun
Violist: Takumi Nozawa
Cellist: Jeanne Maisonhaute
Tana String Quartet
Hailed as "impeccable players" (The Guardian), the Tana String Quartet was honoured with the Union of Belgian Composers' Fuga Prize, and the Octave de la musique for contemporary music. The Tana Quartet has also appeared at prestigious festivals and concert series worldwide, including Philharmonie de Paris, Palau de la Musica, Vienna's Konzerthaus, Villa Medici, IRCAM/Manifeste, Darmstadt, Wigmore Hall, Phénix Valenciennes, and Lille Piano(s) Festival. Since its founding in 2010, Tana has consistently acted as a champion of new works, having premiered over 250 pieces by leading composers such as Ivan Fedele, Philippe Hurel, Hector Parra and Philip Glass. They have been crucial advocates for the saturist movement, working closely with Franck Bedrossian, Raphael Cendo, and Yann Robin, whose works are featured on their album Shadows. The quartet has released twelve albums, including Philip Glass's complete works for string quartet, recognized by Classica magazine as the best album of 2018. Their album Volts, featuring music for string quartets and electronics, was acclaimed as marking "a landmark in the history of the quartet genre" (classiquenews. com).
All the content of works are independently produced by the organiser/creative team, and do not reflect the views or opinions of The Hong Kong Jockey Club Charities Trust.
Presented by


Exclusive Sponsor