Date:
08 MAY - 14 MAY 2023
Time:
8, 11, 12 May 2023 (Mon, Thu, Fri) 1pm; 14 May 2023 (Sun) 10am
Venue:
Parade Ground, Tai Kwun
Admission :
Free admission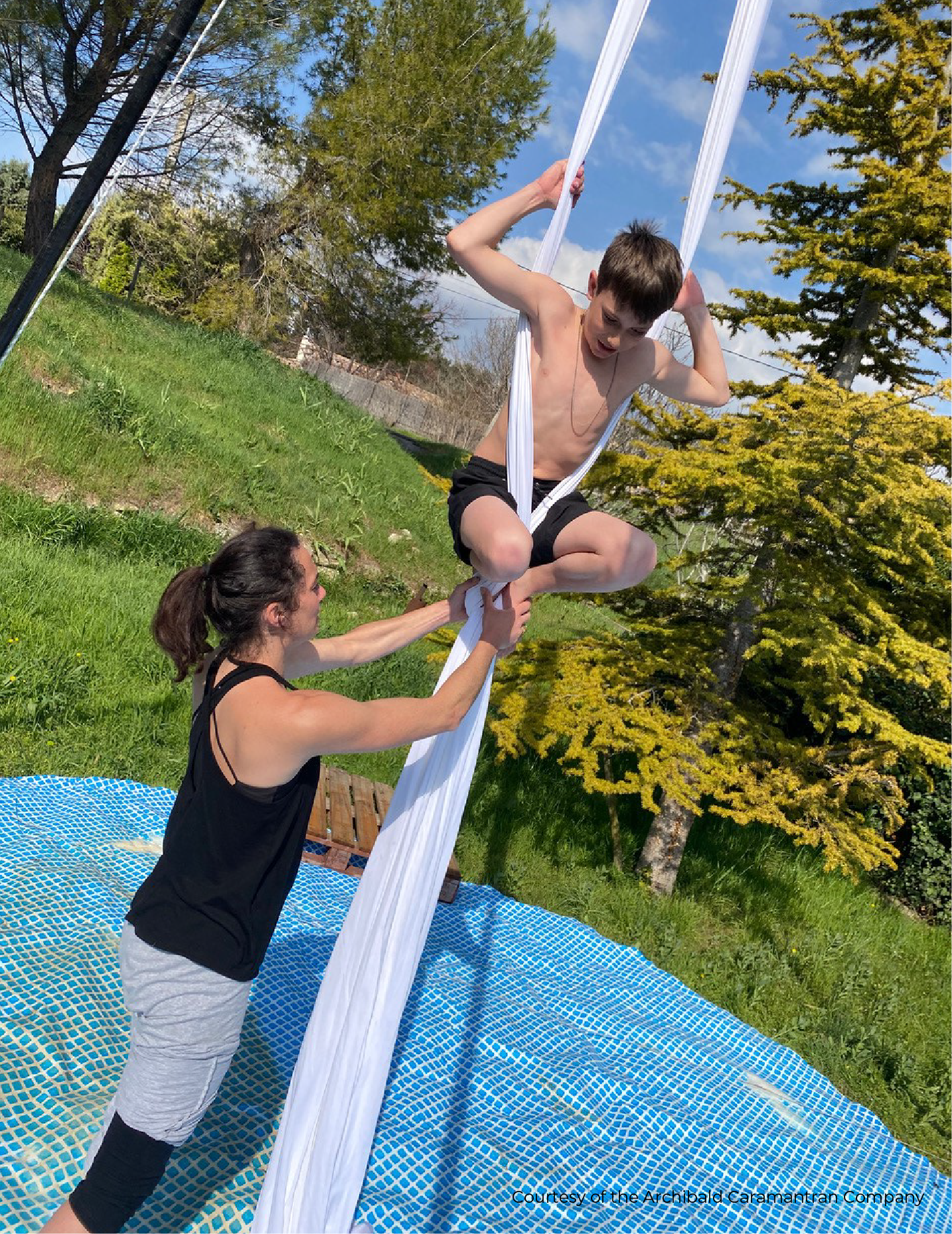 Discover the techniques of aerial.
Aerial fabric is a discipline of the circus, designed to bring about the physical prowess in between a piece of double-layered fabric.
During the introductory workshops, we work on self-confidence to put our bodies in the air and handle the notion of weightlessness.
Through a combination of different postures in suspension, we open up our bodies to carve out mental and physical space.
| | |
| --- | --- |
| 8, 11, 12 May 2023 (Mon, Thu, Fri) 1pm | Suitable for participants aged 16 years old or above |
| 14 May 2023 (Sun) 10am | Suitable for participants aged 6 to 10 years old |
The running time of the workshop is 2 hours including a warm-up of 30 minutes at the beginning and 15 minutes of stretching at the end of the session.
The workshop is suitable for beginners; no prior experience required.
The workshop is conducted in English.
The quota for each session is 10 persons, 5 persons will share one silk.
Participants should wear proper sportswear during class.

Creative Team List
Artistic Director: Hagenloch Olivier
Choreographer: Marie-Martine Robles
Archibald Caramantran
Archibald Caramantran is an international street theatre company specialised in medium- to large scale performances, at fixed locations or on parades.
Combining different art forms, including visual arts, dance, theatre, circus and music, the company utilises giant muppets and aerial dance to create dreamlike and popular shows.
Driven by the desire to surprise every day and reveal its poetry, Archibald Caramantran plays in open areas to meet the public and offer them a theatre of images which are at time sensible and absurd, marvellous and of distinct proportions.
In its creations, the company utilises giant muppets and aerial dance to build a special relationship with the public and act the city out. The aerial space becomes a natural playground for making and sculpting, using various methods: fabrics, mesh, dance in the air or building facades.
Since its creation in 2005, the company has earned international recognition. Its giant muppets have wandered onto the streets of cities and villages, from carnivals to festivals, in the marquees of the opera houses in France and overseas, Europe, Australia, Canada, Cuba, China, Asia, Russia, Africa.
The Archibald Caramantran Company is supported by City of Carpentras, COVE, District of Vaucluse, Region PACA and DRAC PACA
---
Marie-Martine Robles Choreographer
Since 2017, Marie-Martine Robles has collaborated with Olivier Hagenloch to explore aerial space possibilities for Archibald Caramantran.
Coming from a classical and contemporary dance background, Marie-Martine enjoys crossing artistic disciplines and mixing dance movements of diverse forms with street theatre, circus, the stage and the ambulatory.
After receiving training in classical dance at the National Conservatory of Lyon, Marie-Martine moved on to contemporary and jazz dance with the dance company Jeune Ballet d'Aquitaine.
Since then, she has danced for many choreographers, such as Pedro Pauwels, Harry Albert, Jean Alavi, Claude Magne…
In 2007, she joined Zigrolling, a company which combines choreographic sculptures and dancers' bodies. Together with the company, she worked for Cirque du Soleil and the Finzi Pasca Company and performed in several international festivals: "Cienca Na Rua" (Portugal), "Lightning in a Bottle" (U.S.A.), "Exposition sur l'eau et le développement durable" (Water and Sustainable Development Exhibition) (Spain).
Moreover, for the companies Rêve de singe and Dynamo, she articulates her expertise around aerial space (fabrics and acrobatic dance on facades and tilting). In parallel, she puts up a solo show of aerial dance Un-Dix-Visible with a piece of white fabric attached to a red wire, as well as a number of nets in which the body and the material merge into one.
Ticketing Info
Free to the public. Register here from 16 March onwards.
All the content of works are independently produced by the organiser/creative team, and do not reflect the views or opinions of The Hong Kong Jockey Club Charities Trust.
Presented by


Exclusive Sponsor


Partner