Artist residency (Puppet) sharing session
Venue:
Laundry Steps, Tai Kwun
Admission :
Free admission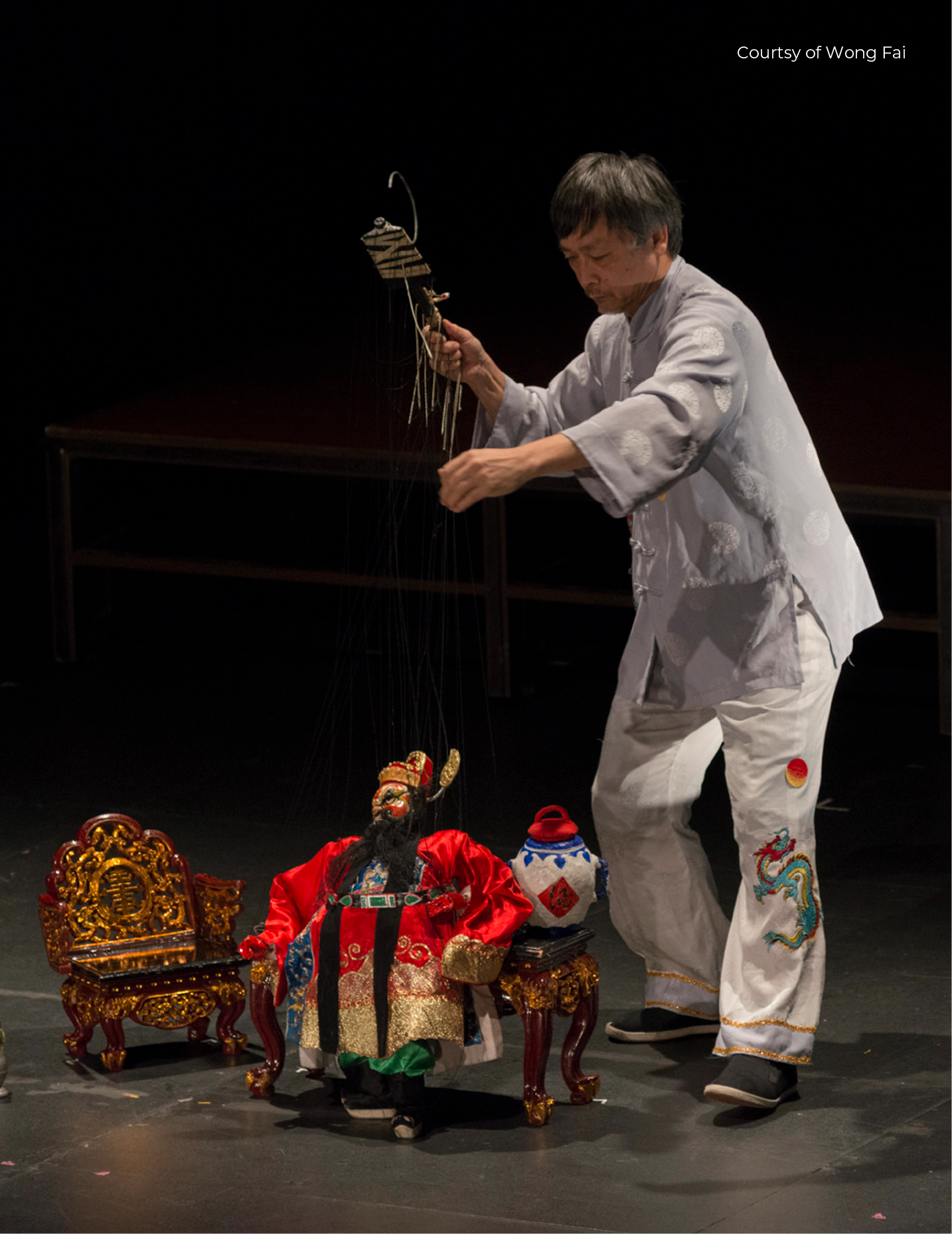 Artist residency (Puppet) sharing session
During their four-day residency scheme in Hong Kong, Archibald Caramantran shared their giant puppets with local artists, and visited the local groups' studios to carry out exchange with practitioners specialized in different forms of puppet art: from traditional Chinese puppetry to modern puppet theatre.
The sharing session invites puppeteers from Archibald Caramantran, along with art groups that take part in the exchange activities, including Fantasy Puppet Theatre, Ming Ri Institute for Arts Education and Wong Fai Shadow Puppet, to discuss the cultural exchange, as well as their own experience in puppetry.
The running time of the sharing is 1 hour 30 minutes
The sharing is conducted in French, English and Cantonese, supplemented with English translation.
Creative Team List
Participating companies: Archibald Caramantran, Fantasy Puppet Theatre, Wong Fai Shadow Puppet, Ming Ri Institute for Arts Education
Archibald Caramantran
Archibald Caramantran is an international street theatre company specialised in medium- to large scale performances, at fixed locations or on parades.
Combining different art forms, including visual arts, dance, theatre, circus and music, the company utilises giant muppets and aerial dance to create dreamlike and popular shows.
Driven by the desire to surprise every day and reveal its poetry, Archibald Caramantran plays in open areas to meet the public and offer them a theatre of images which are at time sensible and absurd, marvellous and of distinct proportions.
In its creations, the company utilises giant muppets and aerial dance to build a special relationship with the public and act the city out. The aerial space becomes a natural playground for making and sculpting, using various methods: fabrics, mesh, dance in the air or building facades.
Since its creation in 2005, the company has earned international recognition. Its giant muppets have wandered onto the streets of cities and villages, from carnivals to festivals, in the marquees of the opera houses in France and overseas, Europe, Australia, Canada, Cuba, China, Asia, Russia, Africa.
The Archibald Caramantran Company is supported by City of Carpentras, COVE, District of Vaucluse, Region PACA and DRAC PACA
---
Fantasy Puppet Theatre
Established in 2005, Fantasy Puppet Theatre is one of a handful puppet theatre companies in Hong Kong which works with a wide range of techniques to produce original puppet shows for children, youngsters and their parents. The company is made up of members from different background, including Chen Ying Ching, professional puppeteer from Taiwan, and Yip Wai Bun, art teacher for children from Hong Kong, thus enable the company to explore new grounds in modern puppetry.
Fantasy Puppet is committed to present productions full of fantasies so as to provide children with food for imagination. With its members' love for Hong Kong, the majority of its works were based on local stories, while some of them drew inspirations from various media such as classical paintings, folk art, circus and nostalgic toys. Recently, more creative techniques have been introduced to the company's productions, including the use of light and shadow, object theatre, integration of real-time projection to live puppet performance. Tailor-making their performances accordingly to the stories, the company has created over a hundred puppet shows.
---
Wong Fai
In the early years, Wong Fai followed the puppet master, Li Yuquan, to learn the art of hand puppet play. He studied the art of shadow play from the famous shadow artist Tan Degui and string puppet play from the international puppet master Huang Yique. He assisted Master Li Weiquan in the creation of the "Xiangjiang Shadow Theatre" in Hong Kong, marking the first local shadow play performance in Hong Kong. Wong Fai has been frequently invited to perform overseas and participate in international puppet festivals. In 2013, he was invited by the Hong Kong Leisure and Cultural Services Department to attend the Guangdong intangible cultural heritage representatives performance. In the same year, he was awarded for promoting the development of outstanding figures in the arts and culture by the Secretary for Home Affairs.
---
Ming Ri Institute for Arts Education
Founded in 1984. Since its Artistic Director Simon Wong visited the Czech Republic in the 1990s, he has used puppets as a medium to engage in children theatre and art education, with a style of humor and simplicity. Since 2009, the institute has become a venue partner of Tsuen Wan Town Hall. Each year, it provides more than seventy performances of four plays, and a hundred outreach and training activities. Over the past forty years, the institute has inspected, exchanged, studied, and collaborated with counterparts from nearly thirty countries and regions, covering five continents. From 2008 to 2016, Simon Wong became the first Chinese to be elected as the executive committee member of Union Internationale de la Marionette (UNIMA). Since 1992, the institute has launched four Giant Puppet Parades for ten consecutive years.
Ticketing Info
Free admission, no registration needed.
All the content of works are independently produced by the organiser/creative team, and do not reflect the views or opinions of The Hong Kong Jockey Club Charities Trust.
Presented by


Exclusive Sponsor


Partner