Piano Masterclass by Niu Niu and Théo Fouchenneret
Venue:
Concert Hall, Hong Kong Cultural Centre
Admission :
Free admission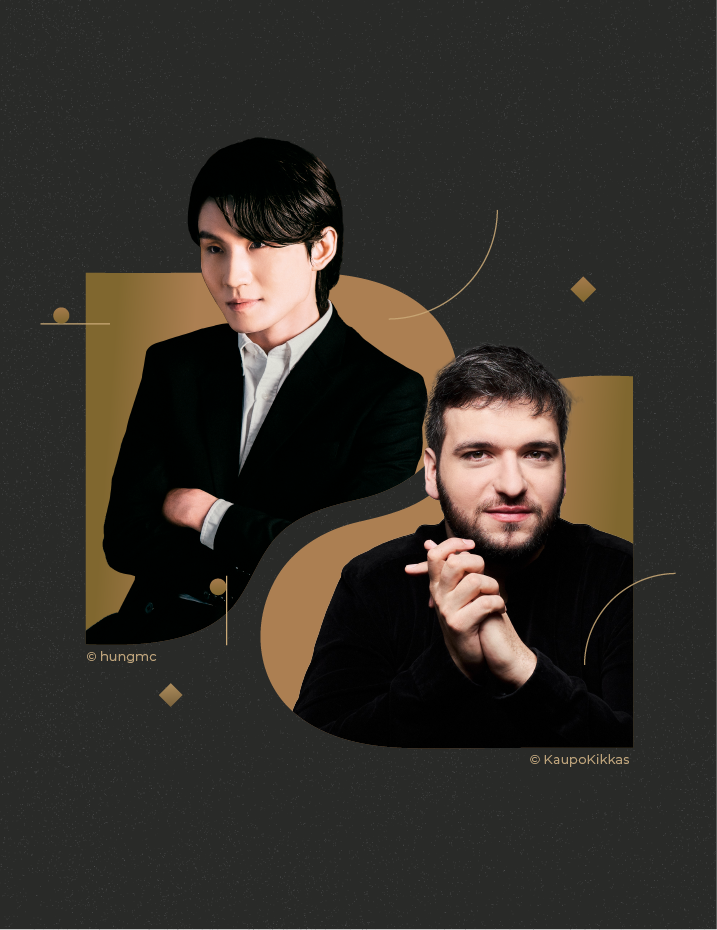 Piano Masterclass by Niu Niu and Théo Fouchenneret
"Piano Masterclass by Niu Niu and Théo Fouchenneret " will be held on 13th May (Sat) at 3:00 pm at the Hong Kong Cultural Centre Concert Hall. The talented Chinese pianist Niu Niu and his like-minded and talented French counterpart, Théo Fouchenneret, will personally guide students, integrating Eastern and Western cultural influences in piano performance to inspire Hong Kong's aspiring young music talents.
In this piano masterclass, 4 students can learn from Niu Niu and Theo directly how to master a piece each, and receive critique on their performance and also get tips and tricks on how to deliver world-class performance, while the audience of the masterclass can witness the pianists' performance demonstration and unique mentorship!
"Piano Masterclass by Niu Niu and Théo Fouchenneret " is exclusively sponsored by the First Initiative Foundation. All students, educators and friends who are passionate about music are welcome to participate for free. Due to limited seating capacity, pre-registration is mandatory for the event.
The running time of the masterclass is approximately 90 minutes without intermission.
Masterclass conducted in English.

Pianists: Niu Niu, Théo Fouchenneret

Niu Niu Pianist
Niu Niu is the stage name of Zhang Shengliang, who was born into a musical family in Xiamen in 1997. With signs of exceptional talent shown at the age of three, Niu Niu initially studied piano with his father and made his recital debut at six year's old with a Mozart Sonata and a Chopin Étude. At the age of eight, he became the youngest student ever enrolled in the affiliated primary school of the Shanghai Conservatory of Music. He has studied with Hung-Kuan Chen since the age of ten. In 2014, he was admitted to New York's Juilliard School with a full scholarship, graduating in 2018.
Niu Niu signed to EMI Classics at the age of nine, making him the youngest pianist ever signed to an international classical label. Since then, he has released eight albums. Fate & Hope, his latest album released by Decca Classics in 2021, includes his debut composition Hope.
Niu Niu's career highlights include the 2007 Pearl Awards at London's Royal Festival Hall, where he performed Shostakovich 's Piano Concerto No.1 under his mentor Leslie Howard in the presence of the future King Charles III, then the Prince of Wales. In 2009, he became the youngest pianist to give a solo recital at Tokyo's Suntory Hall and the National Centre for the Performing Arts in Beijing. In October 2010, Niu Niu was named the youngest laureate of the 2010 PRIX Montblanc in Berlin. In 2012, as the first laureate of the Artemisia Foundation, he made his debuts in Boston's Jordan Hall and Yale University's Sprague Hall. In 2017, he was invited to perform for the presidents of China, Russia, India, Brazil and South Africa at the BRICS summit evening gala.
In August 2016, he completed a tour in 16 cities within 25 days throughout China. So far, he had done over 100 performances all over the world. In 2018-19, Niu Niu dubbed the piano performance of the character Wei Pang in NHK's animated version of Piano no Mori (Forest of Piano). Broadcast by Netflix worldwide, the animation has boosted an appreciation in classical music and drawn more young audience to Niu Niu's music. As part of the campaign in support of his new album Lifetime, Niu Niu embarked on a nationwide tour of Japan in November 2022, followed by the 2022/23 season's world concert tour in China, Japan, America and Europe.
Théo Fouchenneret Pianist
Théo Fouchenneret won first prize at the Geneva International Competition in November 2018 before being named "instrumental solo revelation" at the Victoires de la Musique Classique in France. The same year he won first prize as well as five special prizes at the Lyon International Chamber Music Competition with the Messiaen Trio.
Applauded by large halls and international festivals, he performs with internationally recognized musicians as Victor Julien-Laferrière, François Salque, Lise Berthaud, Svetlin Roussev, Renaud Capuçon, Gérard Caussé, Eric Le Sage…
In 2018, Mirare released an album with the Messiaen Trio and clarinetist Raphael Sévère dedicated to Olivier Messiaen's Quartet "For the End of Time", as well as Thomas Adès' Court Studies from the Tempest.
In March 2020, his first solo album had been released by Dolce Volta, a recording dedicated to Beethoven's great Waldstein and Hammerklavier sonatas.
"We are struck by a presence and a full and intense sound. The contrasts quickly grip on us. Fouchenneret invites us to a real interpretation." Diapason magazine
Ticketing Info
Free to the public. Register here from 16 March onwards.
Presented by


Exclusive Sponsor