Fin de siècle / Nouvelles Idées
Venue:
Concert Hall, Hong Kong City Hall
Admission :
$400 / $320 / $240 / $150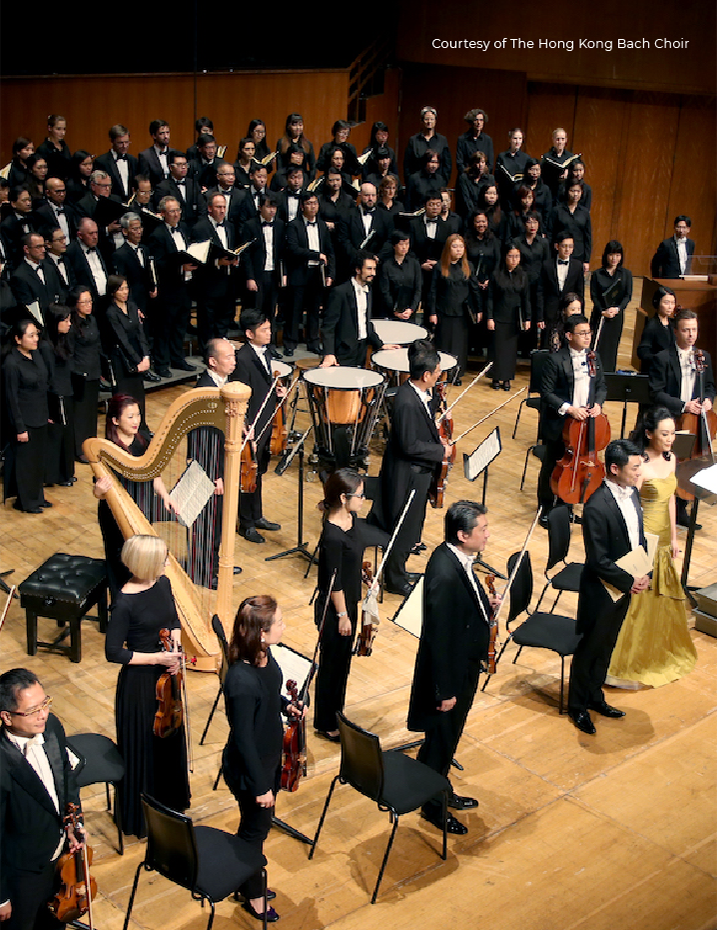 Fin de siècle / Nouvelles Idées
In their long-awaited return to French May, The Hong Kong Bach Choir & Orchestra pay tribute to French musical culture and to France's relationships with the rest of the world – to its deep involvement with Asia and its status as a haven for political exiles.
Gabriel Fauré's Requiem – in his preferred version for chamber orchestra – Jean Langlais' Messe solennelle (with its elaborate organ accompaniment), and Olivier Messiaen's O sacrum convivium! share a common ancestry in the long tradition of French composers who were both virtuoso organists and prominent teachers. But France has also been the centre of Russian exile culture since 1917. Igor Stravinsky settled there in 1920, becoming a citizen in 1934. His influence was projected onto the younger generation of French and American composers through the teaching of Fauré's pupil Nadia Boulanger, for whom Stravinsky's works were an essential model in their clarity and rigor. His three unaccompanied motets, products of his French years, were written for liturgical use, and show a close relationship to traditional Slavonic church music, while still sounding clearly Stravinskian.
Joyce Wai-chung Tang is among Hong Kong's leading home-grown composers. There's a Certain Slant of Light, setting a poem by Emily Dickinson, was first performed by the Sregnis Singers in 2009. The only secular work on our programme, its text's references to "cathedral music" and to death lead naturally to the atmosphere of Fauré's Requiem, sacred music by a resolutely secular composer.
Finally, The Hong Kong Bach Choir salutes Ned Rorem, among the 20th century's greatest composers for the voice, following his death last November. Rorem spent his early years of compositional maturity living in France, and his music reflects the influence of "Les Six" – an influence that persists in When Mercy and Truth are Met, a setting of verses from Psalm 85.
Creative Team List
Music Director & Conductor: Jerome Hoberman
Soloists: Rachel Kwok, Soprano, and Caleb Woo, Baritone
Performers: The Hong Kong Bach Choir & Orchestra
Programme
Jean Langlais (1907-1991): Messe solennelle (1949)
Olivier Messiaen (1908-1992): O sacrum convivium! (1937)
Igor Stravinsky (1882-1971): Three Motets
Tang Wai Chung, Joyce: There's a Certain Slant of Light (2009)
Gabriel Fauré (1845-1924): Requiem, op. 48 (1893 version)
Ned Rorem (1923-2022): When Mercy and Truth are Met (1983)
Jerome Hoberman, Music Director and Conductor
Music Director and Conductor of the Hong Kong Bach Choir and Orchestra since 1992, Jerome Hoberman has been enthusiastically received in Hong Kong, Mainland China, Eastern Europe, and the US. Festival appearances have included the Aspen Music Festival, Shanghai Spring International Music Festival, and the Baguio Cathedral International Music Festival (the Philippines), which he inaugurated in 2008 to remarkable acclaim.
---
The Hong Kong Bach Choir
The Hong Kong Bach Choir is one of Hong Kong's longest-established vocal ensembles. Comprising a multinational membership of over 100 singers, the Choir has enjoyed the direction of a number of conductors over its 50-year history, from its earliest days with Carl Halter through productive associations with notable local musicians Peter Stevenson and Michael Ryan. Since 1992, the Choir has been under the musical leadership of Jerome Hoberman, and it now has the widest repertoire of any choir in Hong Kong, ranging from the 15th century to the present day. Demonstrating a flair for originality in programming, the Choir has performed a number of significant local premières. It also regularly collaborates with other ensembles and participates in music festivals in the city, including French May and, most recently, other works under the batons of Helmuth Rilling and Nicholas Cleobury.
Ticketing Information
Tickets will be available at URBTIX from 11 April onwards.
Please visit www.bachchoir.org.hk for more ticketing and discount information.
Discount schemes
10% off:
Members of the Law Society of Hong Kong
Members of the Hong Kong Institution of Engineers
Members of the Hong Kong Institute of Architects
Members of the Hong Kong Institute of Surveyors
Members of the Hong Kong Arts Administrators Association
50% off:
Full-time students, senior citizens aged 60 or above, people with disabilities and the minder, and CSSA recipients
Group Discount schemes
5% off: Each purchase of 6 to 9 standard tickets
10% off: Each purchase of 10 or more standard tickets
Special discount for secondary school groups: For school groups purchasing 20 or more tickets, please email [email protected] for discount details before 1 May 2023
Presented by