French Ballade
Venue:
Theatre, Sheung Wan Civic Centre
Admission :
$580 / $480 / $380 / $280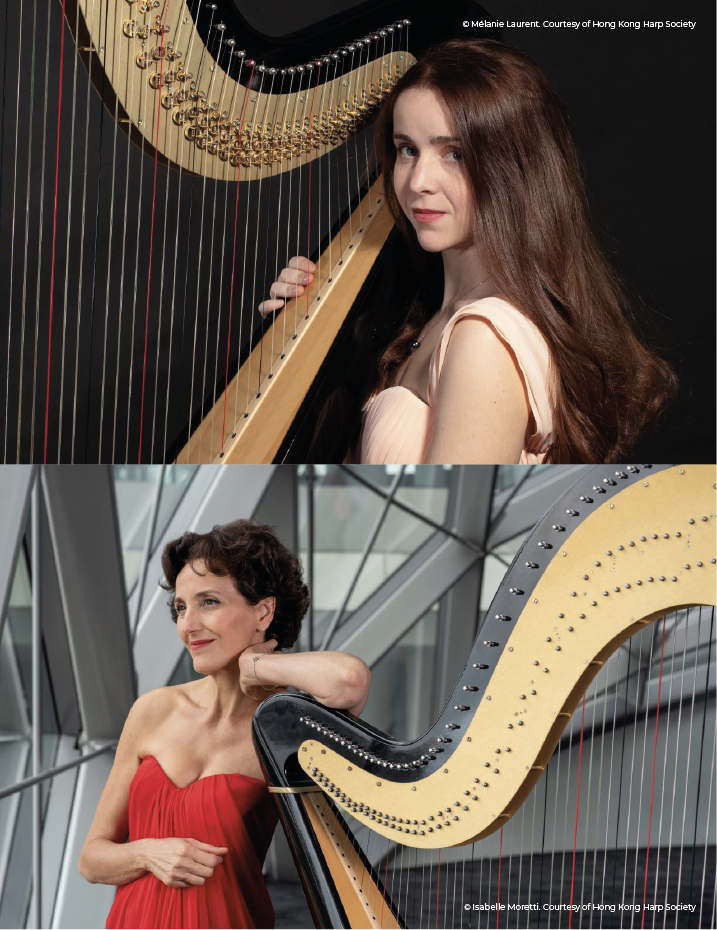 French Ballade
The legendary French harp goddess, and her student, the new champion in recent year, they will have a harp duet in this concert.
French harpist Melanie Laurent won the 11th USA International Harp Competition in 2019. The first half of the concert was her solo recital, playing French classic harp works. In the second half, she will perform duet with her teacher Isabelle Moretti, all of which are wonderful works of French composers.
The finale of the programme, a concerto, will be performed with the Romer String Quartet.
Programme
Solo recital by Mélanie Laurent
Marcel Grandjany – Rhapsodie pour la harpe
Francisco Tarrega – Recuerdos de la Alhambra
Gabriel Fauré – Une Châtelaine en sa tour…, op. 110
Isaac Albéniz – Asturias
Henriette Renié – Ballade Fantastique
Duet with Isabelle Morett
Debussy – Les danseuses de Delphe
Bernard Andrès – Parvis
Isaac Albéniz – Sévilla
Harp with String Quartet
François-Adrien Boieldieu – Concerto pour harpe
Mélanie Laurent
The French harpist Mélanie Laurent is the Gold Medal Winner of the 11th USA International Harp Competition 2019, one of the world's most prestigious harp contests. She is also the winner of the Bellan International Competition (2017).
Hailed by Harp Column magazine as "inspirational" and with a "golden touch", Mélanie charms her audiences with her rich, sensitive and virtuosic playing.
Mélanie was born into a family of professional musicians. She studied with Isabelle Moretti at the Conservatoire National Supérieur de Musique et de Danse in Paris, graduating with honors in 2020. Her playing is now nourished by a thriving multidisciplinary career; she enjoys teaching, performing solo concerts, and working with many orchestras including the Orchestre de l'Opéra National de Paris, the Orchestre National de France, and the Orchestre National d'Ile de France etc.
As a soloist, Mélanie performs throughout France and all over the world – upcoming recitals are planned in Chicago, Indianapolis, Bloomington, Beijing, Shanghai and Xi'an.
Mélanie Laurent is supported by the Banque Populaire Foundation, the Fonds de Tarrazi, the Meyer Foundation, and the Mécénat Musical Société Générale.
Isabelle Moretti
From the beginning of her exceptional career, Isabelle Moretti has been invited by the most important concert halls and festivals, including the Alice Tully Hall (New York), the Wigmore Hall and King's Place (London) etc. Her discography, as rich as it is varied, enjoys widespread success in the media and among critics. It has been awarded a Victoire de la Musique, the Grand Prix de la Nouvelle Académie du Disque, the Prix Charles Cros, and a Choc du Monde de la Musique etc.
In present times, Isabelle Moretti is also acutely committed to ecology. She can only conceive of her mission as a musician in close connection with her deepest convictions. Her poetic tale Parole de terre ("Word of the Earth"), also inspired by Rahbi's writings, is a vibrant illustration of this.
She fulfils her passion for teaching through her positions as Professor at the Conservatoire National Supérieur de la Musique et de la Danse in Paris and Visiting Professor at the Royal Academy of Music in London. She also loves to travel the world and meet young people from all cultures through her numerous masterclasses.
Isabelle Moretti is an Officer of the French National Order of Merit, and an Officer of the Order of Arts and Letters.
Ticketing Info
Tickets will be available at URBTIX from 7 April onwards
30% off for full-time students, senior citizens age 60 or above and people with disabilities (& the minder).
Please visit https://www.harpchamber.com for more ticketing and discount information. Or contact Hong Kong Harp Chamber Music. Tel: +852-3741-0202; Whatsapp: +852-6882-8431
Presented by


Supported by