Tango in Paris
Venue:
Concert Hall, Hong Kong City Hall
Admission :
$450 / $350 / $220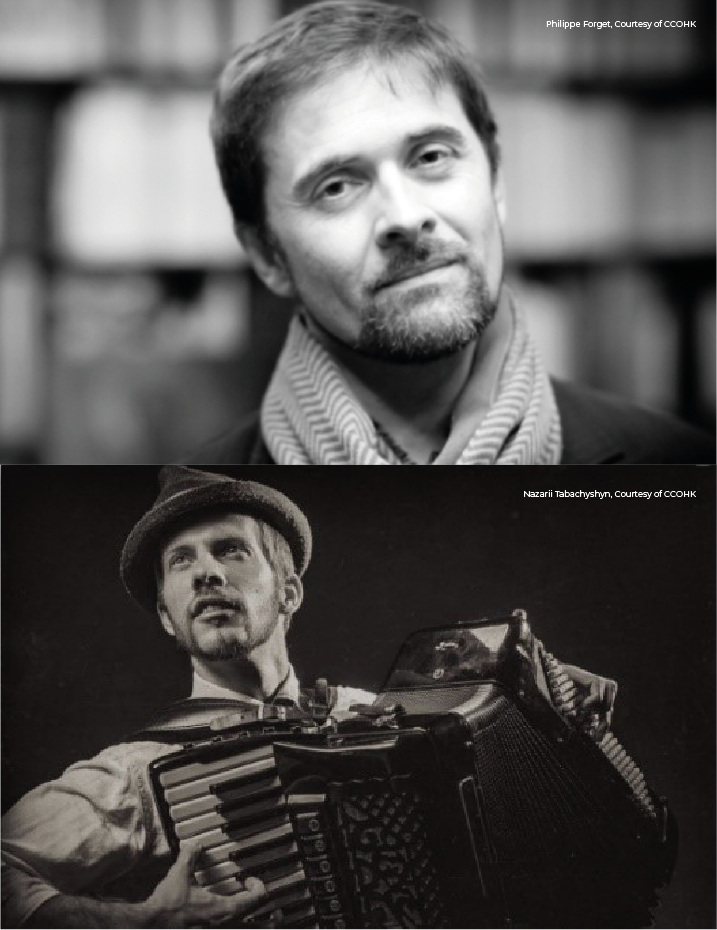 Tango in Paris
This music journey from Paris to Buenos Aires will sweep you off your feet! Evoking sounds of old Paris and touches of Argentinean tango, Richard Galliano's Opale Concerto for Accordion is a brilliant showcase for accordion soloist Nazar Tabachyshyn. Nostalgic melodies by French composer Ravel and tango master Astor Piazzolla bring the French-Argentinean connection full circle.
The running time of the performance is approximately 1 hour 30 minutes including an intermission of 15 minutes.

Programme
Piazzolla – Sinfonietta
Richard Galliano – Opale Concerto for Accordion
Piazzolla – Soledad, Chau Paris
Ravel (Arr. Rudolph Barshai) –Quartet in F major for Strings
Nazar Tabachyshyn Accordionist
Nazar Tabachyshyn was born in Zbarazh in Ukraine, where he began playing the accordion at the age five. He holds a Master of Music degree from the Ukrainian National Tchaikovsky Academy of Music and The Ternopil College of Music in Ukraine. He also taught accordion and conducted folk instrument orchestras. He is the recipient of many prizes including the First Prize at the Ukrainian Musical Contest (2008) and the First Prize at the International Music Contest in Erbezzo in Italy (2010). From 2011 to 2013 he was a member of the Grand Accordion Ensemble which won first prizes at several international music competitions in Lithuania, Estonia and the Czech Republic. He was also the founder and conductor of the Ukrainian Catholic Cathedral Vocal Ensemble in Kyiv, Ukraine. Nazar Tabachyshyn has been performing in Hong Kong since 2014. He has participated in several music festivals in mainland China and in Hong Kong including "Jazz on the Lake" (Hangzhou, 2019) and every year at the "Freespace Jazz Fest" in Hong Kong since 2017. He is currently a founding member of Cafe 852, a tango band performing Tango, Balkan Folk and Gypsy Jazz music in Hong Kong. In 2020, he participated in the Jockey Club "Musicus Heritage Alive" Concerts and more recently, in 2022, he collaborated with CCDC in several performances of Piazzolla's Maria de Buenos Aires.
Philippe Forget Guest Conductor
Philippe Forget is an orchestral conductor and composer. He regularly works for Opera de Lyon where he has conducted performances of The Tales of Hoffmann, The Damnation of Faust, The Child and the Spells and operas by Copland, Blacher and Glass. He has currently associated artist with Opéra de Limoges. His engagements as guest conductor include the Thessaloniki State Symphony Orchestra, the Orquestra Sinfonica Campinas in San Paolo, the Hudson Valley Orchestra in the USA, City Chamber Orchestra of Hong Kong, the Orchestre National de Lorraine, National Orchestra of Bretagne, Opera National de Bordeaux and the Concerts Lamoureux in Paris. He has served as Associate Conductor of the Camerata de Bourgogne, and from 2008 to 2013 he was resident Chief Conductor of the Orchestre Regional Bayonne-Cote Basque. In 2009 he was invited by the International Festival in Verbier to conduct performances of Don Giovanni. Since 2014 he has appeared as guest conductor at the Festival Opera des Landes in the Canary Islands where he has performed Carmen, La Boheme, Rigoletto, Werther, Faust, La Traviata and Pelléas et Mélisande. His compositions have been performed on Radio France, at the Studio-Opéra-Bastille in Paris, the Florence Gamo Festival in Italy and the Edinburgh Festival and Ramsgate Festival in the UK. Philippe Forget is currently the Musical Director of the ensemble Orpheon-La Compagnie Vocale in Lyon and the Artistic Director of the Labeaume Festival of Music. His projects include collaborations with punk star Iggy Pop, rap singer Oxmo Puccino and the artist Jane Birkin. In 2021 he was honoured with the Knight of Order of Arts and Letters by the French Republic.
Ticketing Info
Tickets will be available at URBTIX from 16 March onwards
Half price tickets available for Full-time students, senior citizens aged 60 or above, people with disabilities and minders and CSSA recipients
Co-presented by


Major Partner


Supported by