Rendezvous 4 – Rite of Summer
Venue:
Auditorium, Sha Tin Town Hall
Admission :
$480 / $380 / $280 / $180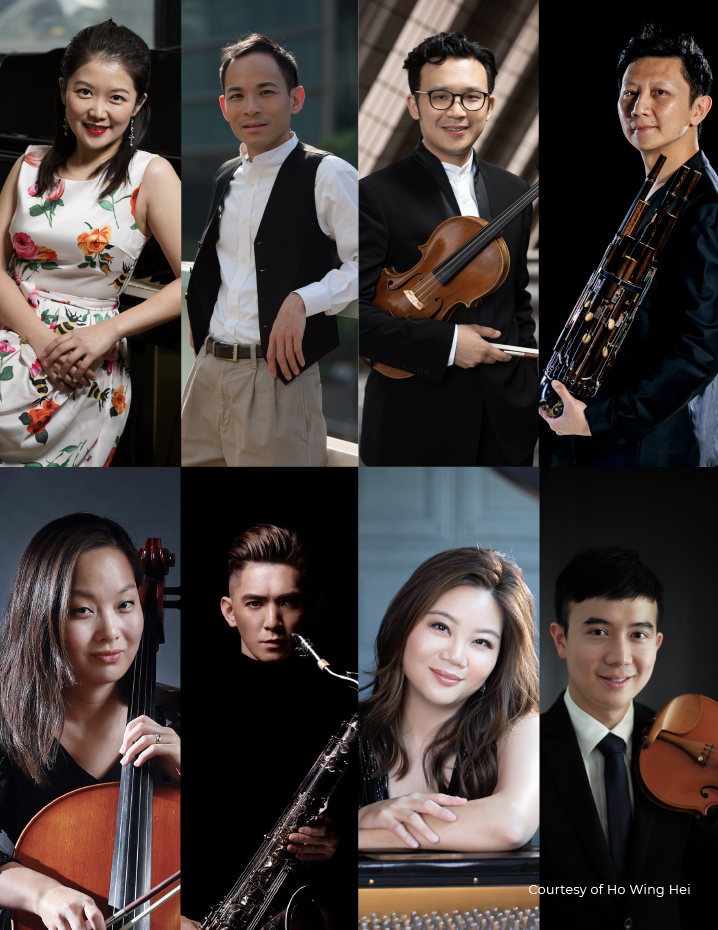 Rendezvous 4 – Rite of Summer
Rendezvous 4 – Rite of Summer plays the sequel to our memorable 2022 French May concert, Love and Hope.
2023 will be our pleasure and our turn to celebrate life with music! There is no better time to celebrate the 30th anniversary of the French May Arts Festival when everything springs back with vitality and joy.
For music lovers, we present you with a talent-laden line-up including a group of talented and charismatic artists, Shum Kinwai, Nicole Ho, Tae-Mi Song, Andrew Ling, Loo Sze Wang, and Alvin Chan. Also, they will have a special guest, Jacqueline Leung to collaborate with Maestro Shum for a two-piano masterwork.
Plus many more!
Celebrate the Rite of Summer with works from favourite French repertoire to some modern classics.
Don't miss out on this enjoyable summer evening of music!
Creative Team List
Pianist: Nicole Ho
Pianist: Shum Kinwai
Violinist: Alvin Chan
Violist: Andrew Ling
Cellist: Tae-Mi Song
Sheng artist: Loo Sze Wang
Programme
Chamber music:
Selected works from your favourite French composers to arranged traditional Chinese tunes and contemporary music.
Biographies
Nicole Ho, Pianist
Collaborative pianist Nicole Ho graduated from the University of Hong Kong and the Guildhall School of Music and Drama, London with a Degree of Master of Music in Music Performance.
Now an accomplished accompanist, Nicole has shown her flair in concerts and appeared on RTHK4 with eminent artists including Sir James Galway, Robert Morris Aitken, and Adam Rapa. She has premiered with local and overseas artists from the Hong Kong Philharmonic Orchestra, the Hong Kong Sinfonietta, the Korean Chamber Orchestra, and the Shenzhen Symphony Orchestra.
Nicole was invited to attend the Piano Pedagogy Conference at the Crane School of Music State University of New York, Potsdam in 2016. Currently an adjunct faculty member of the Education University of Hong Kong since 2013 and instructor at the Music Office, she treasured the joy of teaching. Nicole frequently engaged as a guest pianist for various vocal ensembles and choirs including the Hong Kong Welsh Male Voice Choir and the Hong Kong Children's Choir.
Embraced by the French May Arts Festival, Nicole is a proud four-time presenter of the Rendezvous chamber music series and a performer for the 5th time.
---
Andrew Ling, Violinist
Hong Kong native Andrew Ling is a concert violist and violinist, conductor and music educator. Currently the Principal Violist of the Hong Kong Philharmonic Orchestra (HK Phil), Andrew has garnered acclaim for his orchestral playing and solo recitals worldwide. His appearances as a concert soloist have included the HK Phil, the Seoul Philharmonic Orchestra, the Hong Kong Chinese Orchestra, etc.
A versatile and all-round musician, Andrew has brought his musicianship to conducting engagements with the HK Phil, the Pan Asia Symphony Orchestra, Kunming Nie Er Symphony Orchestra and Finland's Seinäjoki City Orchestra, and Kuopio Symphony Orchestra. Handpicked to conduct the HK Phil in rehearsal for Christoph Eschenbach and the late Lorin Maazel, he has worked alongside some of the world's foremost conductors, including Jaap van Zweden, Edo de Waart, and Leonard Slatkin. Ling was the finalist in the Besançon International Conducting Competition 2017.
He is often seen playing solo as well as chamber music. He has played with many renowned musicians including Yu-Ja Wang, Cho-Liang Lin, Jaime Laredo, Ning Feng, Michael Guttman, The Shanghai Quartet, etc.
Outside the concert hall, Andrew is passionate about cultivating the next generation of musicians. He holds teaching positions at Hong Kong Baptist University and The Hong Kong Academy for Performing Arts, and has also served as faculty at The Youth Summer Music Camp hosted by the National Taiwan Symphony Orchestra. He is the Music Director of Happy Gabby children's music book series and believes that music education should start at an early age, to prepare the child for future advancement in his or her music journey, with genuine positivity and curiosity.
Andrew is the recipient of Certificate of Commendation from Secretary of Home Affairs of Hong Kong in 2012.
---
Shum Kinwai, Pianist
Pianist Shum Kinwai took major prizes in the 11th Schubert International Piano Competition in Dortmund, Germany and the 4th Hilton Head International Piano Competition in the US. He has performed numerous recitals in North America and Far East Asia, and has appeared as a soloist with the Dortmund Philharmonic and the Hong Kong Symphonia, among others.
Kinwai was a junior student at the Hong Kong Academy for Performing Arts and graduated from the Eastman School of Music. He studied with Yau Shan Ngai, Eva Lue, Douglas Humpherys, and Edward Auer, and was later coached by Jorg Demus and Gabriel Kwok. He currently teaches at the Hong Kong Academy for Performing Arts, the Chinese University of Hong Kong, and the Education University of Hong Kong where he is an Honorary Artist-in-residence. In recent years, he has been invited to perform and teach as an artist-faculty at Yeoncheon DMZ International Music Festival in Korea, Indiana University Summer Music Festival and Lancaster International Piano Festival, both in the US. His Schubert album was released in 2014 by Universal Music.
He was presented the Certificate of Commendation by the Secretary for Home Affairs, the Government of Hong Kong in 2008, and the Distinguished Young Pianist Award by the Hong Kong Piano Music Association in 2009. He is the awardee of the 2013 Ten Outstanding Young Persons in Hong Kong. He is a Steinway artist.
---
Loo Sze Wang, Sheng artist
"Loo Sze Wang's technical authority and musical sensitivity dominated ….. inventively conceived and expertly rendered" SCMP
Prize-winning Loo Sze Wang is the foremost sheng (Chinese mouth-organ) player of his generation in Hong Kong and has been active in world-famous Music Festivals.
Loo premiered the Sheng Concerto Mirror de Macao by Dr. Lam Bun Ching in ISCM2009 and several Sheng Concertos by Dr. Chan Hing Yan with HK Sinfonietta under the baton of Yip Wing Sie. Loo was the Artist-in-residence of Cornell University, NY and CUHK, and Artist associate of HK Sinfonietta in 2009, 2011, and 2012 respectively.
---
Alvin Chan, Violinist
Hong Kong-born classical violinist. He graduated at the St Paul's College (Hong Kong) with a full music scholarship in 2013. Since 2008, Alvin has given concerts at Wigmore Hall, St. Paul's Cathedral, and Queen Elizabeth Hall (London).
In addition, Alvin was appointed as a sit-in player at the BBC Symphony Orchestra (2019-2020), playing under the baton of esteemed conductors such as Semyon Bychkov, and Antonio Pappano. Alvin has also partnered with Asian Chamber Orchestra and Ponte Orchestra to stage several charity concerts as a soloist, playing Beethoven Violin Concerto, and Tchaikovsky Violin Concerto. He is currently a violin player for the Hong Kong Sinfonietta and Hong Kong City Chamber Orchestra.
Over the years, Alvin has played in masterclasses with internationally esteemed violinists, including Ning Feng, Sarah Chang, and Benedict Cruft. He has previously studied with distinguished violinist/Hong Kong Philharmonic Principal Viola Andrew Ling. Recently, he graduated his Master of Performance degree (Violin) with the sponsor of Noel Croucher Scholarship to study under renowned violin pedagogue Itzhak Rashkovsky at the Royal College of Music (London). Alvin completed his high school diploma at The Purcell School for Young Musicians in London.
---
Tae-Mi Song, Cellist
Tae-Mi Song enjoys a varied career as a chamber musician, orchestral player, and soloist. She first received music tuition in her hometown Hamburg, Germany, before moving to London to study with Leonard Stehn at Guildhall School of Music and Drama. She worked with orchestras such as London Philharmonic, Philharmonia, Royal Philharmonic, and BBC Concert Orchestra. Chamber music and soloist engagements have taken her to Germany, Switzerland, Scotland, South Korea, and France.
In 2016 Ms Song has been invited by internationally renowned conductor Jaap van Zweden to join the Hong Kong Philharmonic Orchestra.
Ticketing Information
Tickets will be available at URBTIX from 7 April onwards.
Please visit www.urbtix.hk for more ticketing and discount information.
Discounts for students and senior citizens aged 60 or above.
The running time of the programme is approximately 90 minutes with no intermission.
Presented by


Supported by


Sponsored by