Project M0Ch3 – Trente – A Contemporary Flute & Piano Duo Recital
Venue:
Recital Theatre, China Congregational Church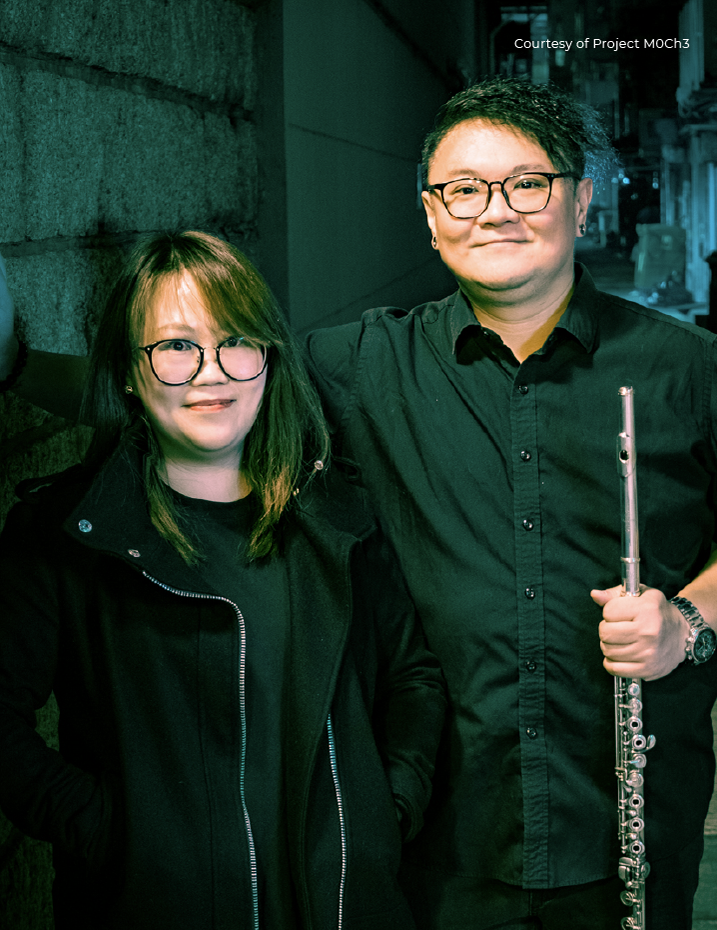 Project M0Ch3 – Trente – A Contemporary Flute & Piano Duo Recital
Confucius said, "At thirty, I stood firm." To stand firm means having a clear and well-established value. This is the confidence and readiness to tackle any obstacles in life.
Project M0Ch3, a Hong Kong contemporary flute and piano duo, in celebration of French May's 30th anniversary, will present a programme that will hint at what the number thirty means to musicians. The pieces are either composed when the author was thirty, or their 30th opus.
The programme includes works by musical giants such as Beethoven and Debussy, as well as Nadia Boulanger, who was an influential figure to many 20th century French composers. From the past to present, the programme also features flute and piano pieces by two Japanese composers, Ito and Beja.
Creative Team List
Artistic Director: Christine Cheng
Performers: Project M0Ch3
Programme
Debussy – Nocturne
Ito/ Rameau – Variation
Strauss – Also sprach Zarathustra, Op. 30
Beethoven – Sonata for Violin and Piano No. 8 (transcribed for flute and piano) Op. 30
Nadia Boulanger – Vers le vie nouvelle
Beja – Sonata for flute and piano
Project M0Ch3
Project M0Ch3, initiated by two pioneer performers Stephen Lee and Christine Cheng, aims to bring the latest and most forward-thinking solos music around the world to Hong Kong audiences, and recreate such refreshing inspiration Bach, Beethoven or Stravinsky had once brought to people back in the great musical periods.
Unlike other new music performances in town which focus on larger ensembles or complicated instalments, Project M0Ch3 introduces something relatable with intimate recitals and other forthcoming events that could involve every one of us.
Biographies
Christine Cheng
Christine graduated with a Master in Contemporary Piano Performance from the Royal College of Music, where she concentrated on performing the latest piano works that include extended techniques, multimedia collaborations, and electronic music. Christine actively appears in numerous concerts as instrumental accompanists and contemporary piano music soloist and co-founded 'Project M0Ch3' with flutist Stephen Lee. They had launched several installments of 'Contemporary Sound' recital series which aim to promote new music from around the world to Hong Kong audiences.
Christine also has her piano performance YouTube Channel: 'XINE Pianist HK'. In the channel she presents an original series named "Project Popsicals" including original works that mash up classical pieces with Canto-pop.
---
Stephen Lee
Stephen Lee is a Hong Kong native who grew up in Seattle, Washington, USA. He was privileged to receive scholarships from the University of Washington to study with world-renowned flutist, Felix Skowronek, and graduated with a Bachelor degree in Flute Performance. Relocated back to Hong Kong in 2007, Stephen has been active in teaching and performing. He is a freelance flutist with Gustav Mahler Orchestra and Hong Kong Symphonia. With his multitalents, Stephen is much sought-after in the pop music field as well. Recent collaborations include 'The Fairy Tales of Serrini', and 'Anita Mui 10th Anniversary Concert'; as well as Hong Kong TV drama's original soundtrack recordings include 'Every Step You Take', 'Heart and Greed 3', and 'The Man Who Kills Troubles'. Stephen was also the assistant music director and music arranger of the Hong Kong original musical drama, "Mencius Sings Around The World". Stephen is the founder of flute choir 'Hong Kong Chamber Flutes' and contemporary music duo 'Project M0Ch3'.
The running time of the performance is approximately 2 hours including an intermission of 15 minutes.
The performance is in English and Cantonese.
Audience members are kindly reminded that the latest Prevention and Control of Disease Regulations and related vaccine bubble requirements implemented by the Government at the time of the performance must be complied with. Changes to existing arrangements may occur in light of new pandemic measures and government directives. Please refer to government announcements for updates.
Presented by


Supported by