Between Shapes and Forms
Date:
06 MAY - 31 MAY 2023
Time:
Tue – Fri: 11am – 7pm; Sat: 12nn – 5pm
Admission :
Free admission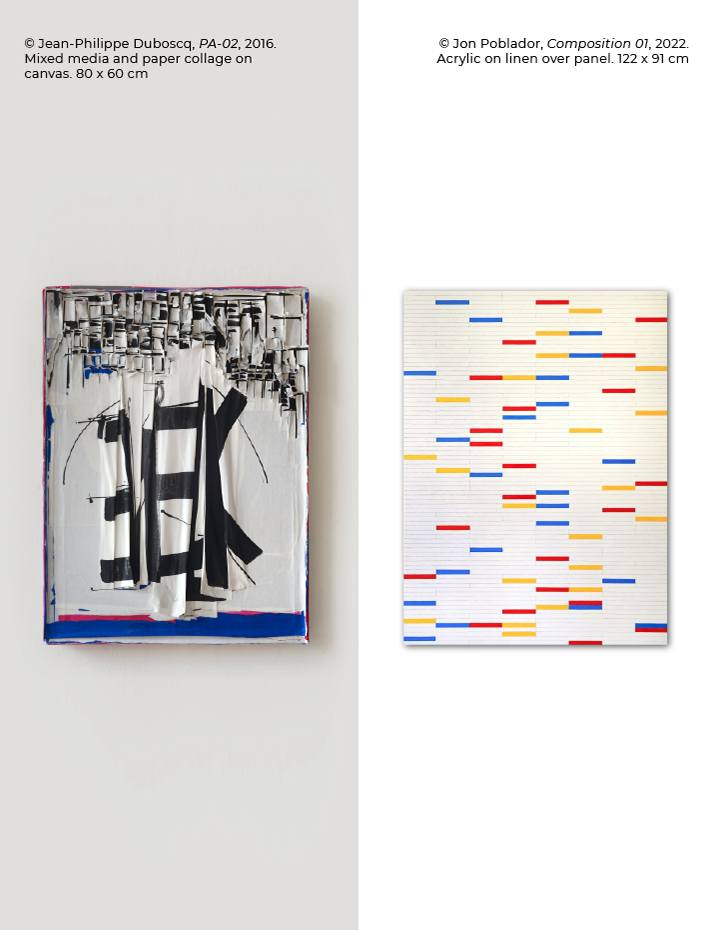 Between Shapes and Forms
In a world preoccupied with technology, there is something remarkable about painting. It connects us to the oldest and most basic forms of human self-expression.
Jean-Philippe Duboscq's textured works and Jon Poblador's minimalistic paintings compose an exhibition where experimentation, the bold mastery of know-how, and the power of the medium converge. Each with their own specificity and identity pays particular attention to composition.
Depending on the period, Duboscq expresses art through materiality, volumetry, abstraction, lyrical abstraction, and today, through a more conceptual approach to painting. Throughout Poblador's career, as he matured and more clearly defined his message, specific patterns or motifs are often repeated in his art: compositions, techniques, processes, titles, etc.
In the artists' eyes, creating was a fundamentally abstract pursuit. By immersing the viewer in pure colour and form, they hoped to generate a raw, emotional drama capable of reflecting the full spectrum of the human experience.
Biographies
Jean-Philippe Duboscq
Jean-Philippe Duboscq (b.1960) is a French-Belgian painter; he lives and works in Brussels. With the support of his sculpture teacher, Félix Roulin, he entered the Ecole nationale supérieure des Arts Visuels de La Cambre at the age of sixteen. He then switched to music while working on painting and plastic arts. As a musician and composer, for many years Duboscq created contemporary music and worked in collaboration with artists such as Peter Downsbrough, Bram Bogart... Since 2012 he started to collaborate with art galleries worldwide and it has become a profession.
His idea is to work from pictorial flows that infiltrate while leaving a trace, an imprint of their passage. It is a kind of memory of the fold that takes the form of stains, Rorschach or mirror effects that may or may not be revealed in the end.
His pieces are generally composed of several interchangeable elements which are initially presented in the form of a painting but because of their modular nature, it allows him to deploy them in an installation. A piece can thus be reassessed and reorganised to adapt a space or a place, giving a new interpretation of itself.
---
Jon Poblador
Jon Poblador (American, b.1971) born in the Philippines, received a BFA from Northern Illinois University, and an MFA from the University of Pennsylvania. Poblador is a contemporary painter best known for his minimalistic works. Applying thin layers of acrylic paint to his canvas creates a shimmery effect, in which the colours are added in a series of vertical and horizontal lines that can be seen beneath the surface of the work.
Poblador's work is about various forms of repetition. Each piece, in its creation, is a meditation. The concept is more evident in the drawing series but becomes more subtle in the works on canvas. Even though the paintings are composed of grids, the repetition occurs through the multiple layering of paint. Each piece has at least thirty layers. Sometimes up to fifty. The layers transform the surface of the canvas by eliminating the texture of the cloth as well as adding volume to the paint itself. The increased paint thickness then produces a slight relief on the surface.
Presented by