Blossoming Impressionism II
Date:
03 JUN - 30 JUN 2023
Time:
Tue – Fri: 11am – 7pm; Sat: 12nn – 5pm
Admission :
Free admission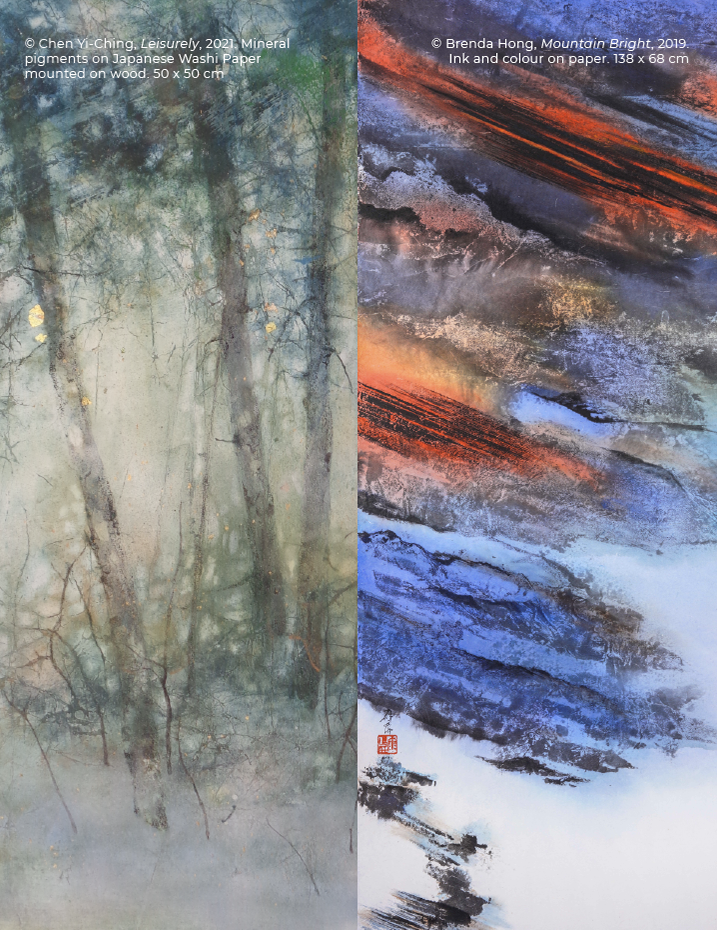 Blossoming Impressionism II
Brenda Hong and Chen Yi-Ching's creations are odes to nature, where their inspiration is both derived from the awareness of nature and life. Both artists took an impressionistic approach, which are expressed as unique forms and substances on paper through Hong's ink and colour and Chen's distinctive nihon-ga technique. Through the language of art, the artists express their inner peace with ease and delicacy, creating a meditative and harmonious atmosphere in their paintings.
To Chen, the nature parallels human life, through which one can understand life's transience. From the materials used in her paintings, to the scenes presented under each brushstroke, her works reveal the vitality and beauty of life. As for Hong, the process of creation seems to be a kind of restoration of nature… and a kind of spiritual healing. She believes we ought to rely on the observation and understanding of life to discover living sensory entities before internally transforming them into subjective emotions.
Biographies
Chen Yi-Ching
Chen Yi-Ching (b. 1975) is a Taiwanese painter currently living and working in Paris. She is one of the rare contemporary nihon-ga artists in Europe, who has lived in Japan and studied under renowned Japanese masters. Admitted to the faculty of Fine Art, at the Kyoto City University of Arts in 2002, she was a student of Takao Yamazaki, the distinguished master of the Nitten movement. In 2003 she won the prestigious Grand Prize of the Shouhaku Museum with her painting entitled Kabocha (Pumpkin). Her talent and potential were recognised by nihon-ga master Atsushi Uemura, and was awarded a studio and the opportunity to study under his guidance following her master's degree.
Greatly admiring the work of the late 19th century Impressionists, Chen moved to France in 2004. She continues to develop her own artistic research and pedagogy in Paris. She is the author of the first book in French on the practical technique and history of nihon-ga Découvrir la peinture nihon-ga, Art Traditional Japonais, published in 2012 by Editions Eyrolles. Chen is the Professor of Nihon-ga at The Guimet National Museum of Asian Arts, Paris, France, and a member of the Foundation Taylor for Arts, France.
---
Brenda Hong
Born in Hong Kong, Brenda Hong was one of the first graduates of the Contemporary Ink Artists Summit Program by Liu Kuo-Sung of the Shanghai Institute of Visual Art. Graduated from Lingnan University, Grantham College of Education, First Institute of Art and Design, The Chinese University of HK-CUSCS Modern Ink Painting. She has worked for many years in graphic design and also as an instructor for the American Institute of Floral Design.
Brenda is a celebrated artist known for her innovative techniques in collage and splashed-ink paintings. Infused with teeming energy and compelling creativity, her paintings expressed her spiritual beliefs and served as an escape from her spells of mental fragmentation.
Presented by