French Romantic Classics
Venue:
Lecture Hall, Hong Kong Space Museum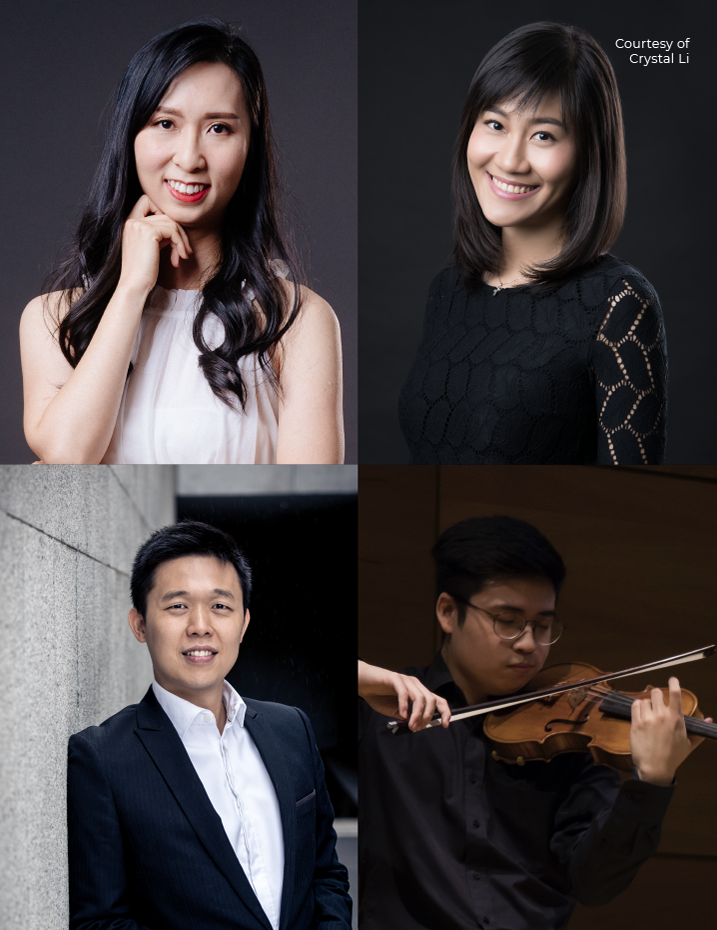 French Romantic Classics
This concert showcases some famous and significant French works of the Romantic period. The programme covers solo, duo and ensemble vocal and violin compositions written by Franck, Faure, Duparc, and Ravel, to name a few. From the beautiful music, you will meet impressionism and find yourself in a space which is full of romance, blessings, ease, and warmth.
Creative Team List
Mezzo Soprano: Christy Li
Baritone: Lam Kwok Ho
Violin: Jim Leung
Piano: Crystal Li
Programme
Franck – Violin Sonata
Faure – La Rose
Duparc – Chanson Triste
Ravel – Don Quichotte à Dulcinée
and more
Biographies
Christy Li
Christy Li obtained her MA Music degree in Vocal Performance with distinction at the University of York, and MA Music degree from the Chinese University of Hong Kong. She was a member of the Jockey Club Opera Hong Kong Young Artist development and education programme in 2019-2022. Her singing was highly commended by American conductor Prof. Kamal Khan as "beautiful elegant singing... lined up top to bottom. Impressive!" Li was the first place winner of the Australian Concerto & Vocal Competition in 2018. Being selected as the Most Outstanding Singer in the 2nd International Opera Exchange Masterclass, she has received a scholarship to study in Italy. Li has performed the title role in Carmen, Dorabella in Così fan tutte, Cherubino and Marcellina in Le nozze di figaro, to name a few. Li also performed as the alto soloist in Martín Palmeri's Tango Gloria Asia premiere, Vivaldi's Gloria, Beethoven's Symphony No. 9, Haydn's Nelson Mass, and Bach's St John Passion. Recently, her role as Fiolxildis in Somnium, an installation opera, was widely acclaimed.
---
Lam Kwok Ho
Lam Kwok Ho has performed as soloist in opera productions by Opera Hong Kong and The Hong Kong Academy for Performing Arts. His operatic credits include Sciarrone in Tosca, Somnus in Semele, Marco and the title role of Gianni Schicchi, Lindorf/Coppélius/Dr. Miracle/Daperdutto in Les contes d'Hoffmann, Leporello in Don Gionvanni, Guglielmo in Cosi fan Tutte, Escamillo in Carmen. As a concert soloist, he has performed Beethoven's Choral Fantasy and Bach's Christmas Oratorio under the baton of Helmuth Rilling. He participated in the premieres of Chan Hing-yan's chamber opera Heart of Coral and Daniel Lo's Women like us at Hong Kong Arts Festival (HKAF).
He obtained his Bachelor of Business Administration degree from the Hong Kong University of Science and Technology. With the support of Cecil Leong Scholarship, Michael Rippon Memorial Scholarship, and Fung Kit Ling Scholarship, he received his Advanced Diploma and Master of Music degree from The Hong Kong Academy for Performing Arts under the tutelage of renowned soprano Nancy Yuen. He has participated in masterclasses by Nelly Miricioiu, Renée Fleming, Eric Halfvarson, Thomas Quasthoff, Dennis O'Neill, Rudolf Piernay, Wolfgang Brendel, and Helen Donath. He is currently a voice instructor at HKAPA's junior programme.
---
Jim Leung
Jim Leung is a graduate from the Royal Academy of Music where he finished his Master of Art and Bachelor of music. Jim is a keen orchestral player and has performed across a number of countries such as the UK, USA, Austria, Italy, China, Japan and Singapore etc. He was selected to perform in the Pacific Music Festival in 2018 where he worked under the baton of Varley Gergiev and with principals from Berlin Phil, Vienna Phil, ChicagoSO, and MET Opera. He also gives solo and chamber concerts across the UK. Jim studied with Mr. Fan Ting since the age of 4 and then studied with Giovanni Guzzo and Michael Foyle at the Royal Academy of Music.
---
Crystal Li
Crystal is a classical pianist, specialising in chamber music, duo playing and song accompaniment. As a duo partner she is in great demand, working with musicians from different parts of the world including European countries, North America, and Asia for recordings, masterclasses, competitions, and concerts. Her repertoires range from Baroque to contemporary, and vocal to instrumental. She also expanded much of her brass repertoire as she was invited to play in the BBC Young Musician and International Trombone Festival Japan. She obtained a Master's degree with distinction at the Royal Academy of Music, majoring in Piano Accompaniment under the tutelage of Professor Ian Brown, alongside the LRAM.
Ticketing Information
Tickets will be available at URBTIX from 7 March onwards.
Please contact [email protected] for more ticketing information.
The running time of the performance is approximately 90 minutes including an intermission of 10 minutes.
Presented by