Transformations
Date:
01 MAY - 14 MAY 2023
Venue:
PMQ H211 (Block B)
Admission :
Free admission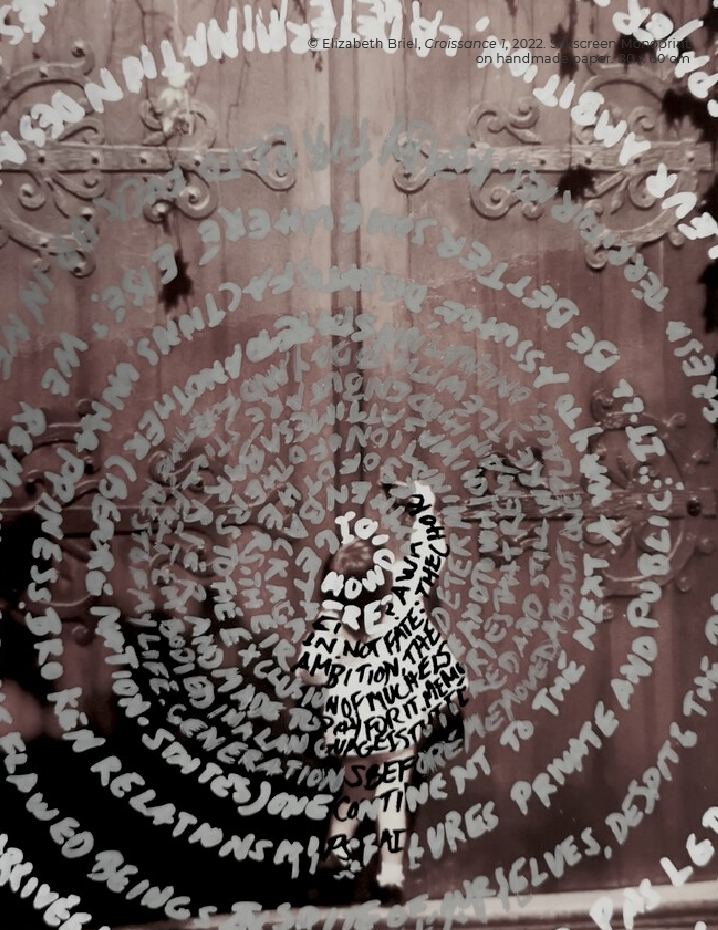 Transformations
Hong Kong-based artist Elizabeth Briel has created a series of monoprint screenprints, formed of bilingual text woven around and through family photos taken during her childhood in France, which explore the restlessness of living between languages and continents, family tensions, and loss.
To create these works she collaborated with two studios:
Ruscombe Paper Arts is run by Frédéric Gironde, a French papermaker who creates 'chiffon paper' from vintage and antique fabrics with innovative and unique character. For this project he has tinted handmade papers with residual grape must from the vineyards that surround his studio in Margaux. The papers' violet tint will fade naturally over time, defying the logic in art conservation that art must remain in the identical state in which it was created.
To print these artworks at the highest quality, she worked with master printmaker David Jasper Wong, co-founder of Marble Print Clay studio in Hong Kong.
During the exhibition, visitors have the opportunity to explore these studios and the works virtually through events and discussions.
Biographies
Elizabeth Briel
Elizabeth Briel's prints, paintings, and installations begin with materials imbued with meaning—papers devastated by a typhoon or made of military uniforms, paints of bone and lead—and frequently incorporate architectural elements. She received a BFA in Painting from the University of Minnesota, and has been awarded fellowships or residencies from China Exploration and Research Society (Shangri-la), Universiti Sains Malaysia (Penang), and Grabart (Barcelona). Briel has lived, worked, and travelled in Hong Kong since 2006, where she runs EBriel Studio in the city's Creative Arts Centre (JCCAC).
---
David Jasper Wong
David Jasper Wong is a Hong Kong-based painter and printmaker, he received his BA (Hons) in Fine Art from Pepperdine University in USA and acquired further studies in printmaking from the Hong Kong Visual Arts Centre in Hong Kong. Wong was the printmaking tutor at the Hong Kong Visual Arts Centre from 2018 to 2022. His works are held in public, institutional, and private collections around the world. He has exhibited his works in solo and group exhibitions in Hong Kong, USA, Spain, Singapore.
---
Frédéric Gironde
Frédéric Gironde, a passionate artist, directs the factory and thus perpetuates this technique invented in China more than 2000 years ago and imported into Europe in the 13th century, and thus offers a complete range of very fine handmade papers.
From very high-quality raw materials, he manufactures his sheets by hand and can also provide faithful reproductions of historical papers. Its customers are artists, collectors, libraries or museums, but also simply lovers of exceptional paper.
Virtual Tour of Printmaking Studio (Hong Kong) and demo of monoprint screenprint technique used to create Elizabeth Briel's artworks, Zoom
5 May 2023 (Fri) 6 – 7pm
Virtual Tour of French Papermaker's studio (Margaux-Cantenac), Zoom
11 May 2023 (Thu) 8 – 9pm
Special thanks to