The Dance Goes On – Dans l'interminable pas de la danse
Venue:
Methodist International Church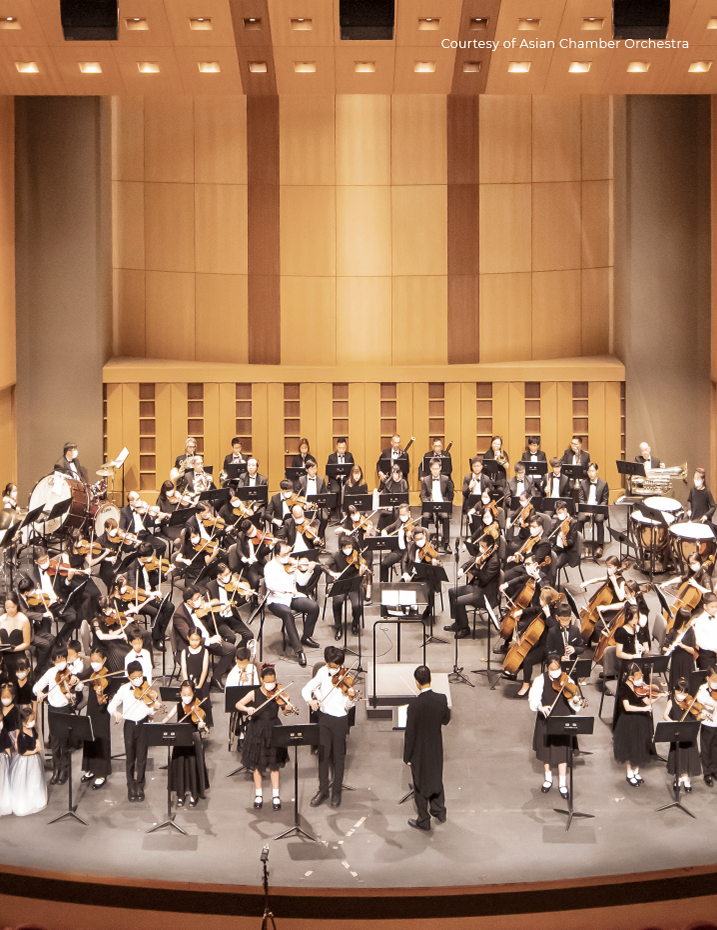 The Dance Goes On – Dans l'interminable pas de la danse
The concert will choose French and Chinese dance music, through the performance of famous French music such as Boléro, Pavane, Saint-Saëns: Danse Macabre, Giselle, Coppélia and other works, and Chinese modern symphonic works such as Jasmine Flower and Dance of the Yao People, which are well known in China. Through the distinctive style of the two countries, the works eulogise the intoxicating beauty of Chinese and French culture, and audiences will experience the delicate art of French music.
Creative Team List
Conductor of Asian Chamber Orchestra: Eric Chan
Director of Asian Chamber Orchestra: Miranda Li
Conductors of Children's Choir: Miranda Li, Yi Liu
Conductor of Children's Percussion Orchestra: Celine Wu
Stage Manager: Xiaoyu Xing, Carole Lo, Lawrence Lau, Rena Ren, Lillian Li
Masters of Ceremonies: Zhao Zhao Li, Darin Lau, Dylan Lok
Programme
French Part:
Ravel-Boléro
Gabriel Fauré-Pavane, Op. 50
Massenet-Meditation from Thais
Berlioz-Symphonie fantastique / Weber-Invitation to the Dance
Saint-Saëns-Danse Macabre
Debussy-Clair de Lune (Orchestra)
Offenbach-Orpheus in the Underworld Overture
Gershwin-An American in Paris
Ballet: Giselle, Coppélia, Perdu dans la nuit à Paris
Chinese Part:
Jasmine Flower
Dance of the Yao People
Spring Festival Overture
Good News from Beijing to the Border Village
Chan Man Tat, Eric
Music Director and Conductor of Asian Chamber Orchestra
As our Music director and conductor, Mr Chan leads our group of talented players to demonstrate our passion for music. Mr Chan started with French horn at the age of eleven and later graduated from the Music Department of the Hong Kong Academy for Performing Arts in 1991. Soon after, he grew interest in conducting and studied with Yu Feng, the artistic director of the Central Opera House in Beijing. In 2008, he then joined Japanese conductor Fukumura Yoshikazu as an assistant conductor of the Vietnam Opera House Orchestra. Currently Mr Chan serves as a member of the Hong Kong Board of Directors of the Chinese Horn Association, Music Director and Principal Conductor of the Asian Chamber Orchestra and the Asian Music Association Symphony Orchestra.
---
Asian Chamber Orchestra
The Asian Chamber Orchestra is a charitable organisation formed by a group of Hong Kong musicians who share a common belief in music to foster and organise musical activities. The Orchestra has been established for 16 years. At present, there are 60 orchestral musicians regularly, with Affiliated Children's Orchestra, Choir and Percussion Orchestra. The Orchestra rehearses every Sunday at the Methodist International Church (Wan Chai). Our members are professional musicians, music teachers, and graduates of tertiary institutions in Hong Kong. In addition, the Asian Chamber Orchestra promotes music culture, organises various events, and actively participates in community performances. They also manage several public service activities to promote the spirit of serving the community.
Ticketing Information
Tickets will be available from 5 March onwards.
Half-price tickets are available for full-time students, senior citizens aged 60 or above, people with disabilities and Comprehensive Social Security Assistance (CSSA) recipients.
Enquiry hotline (WhatsApp): 9344 5625
Email [email protected]
The running time of the performance is approximately 2 hours and 30 minutes.
Presented by


Co-organised by


Sponsored by