Windows of the soul
Date:
17 MAY - 29 JUN 2023
Time:
Tue – Sat: 11am – 6pm
Venue:
Whitestone Gallery Hong Kong
Admission :
Free admission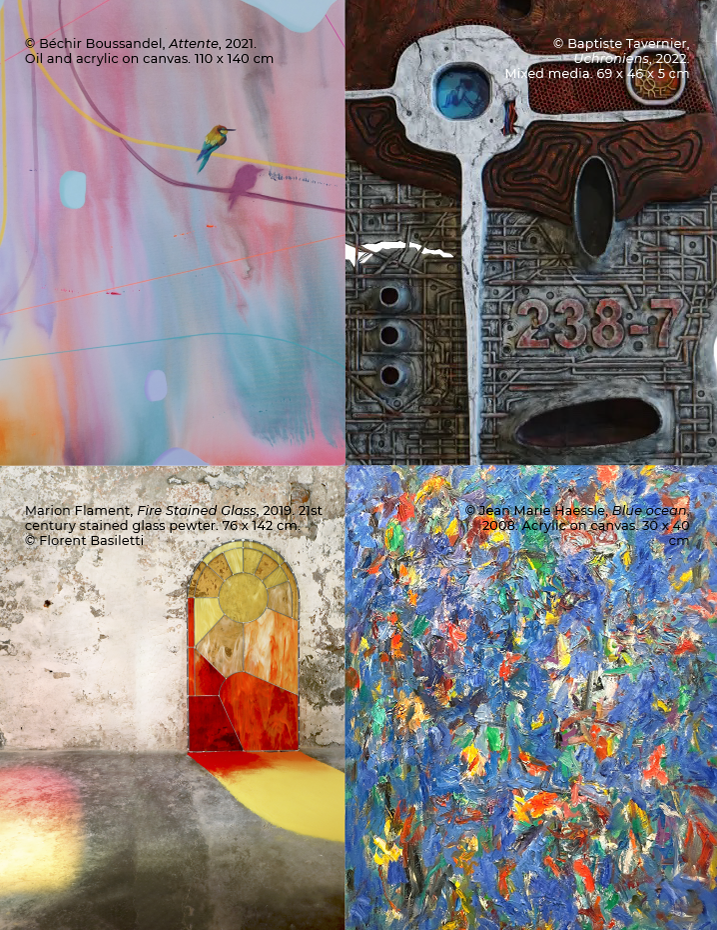 Windows of the soul
Whitestone Gallery is thrilled to present the group exhibition Windows of the soul, featuring artworks by French artists Marion Flament, Jean Marie Haessle, Béchir Boussandel, and Baptiste Tavernier. Windows of the soul is a group exhibition exploring how artists see their mysterious, dream-like patterns defy the dichotomous cosmology, relaxing its tsemporal and spatial laws. It also gives a glimpse of the landscape of the current or a historical era. As the artists freely express what their hearts desire, dreams and imaginations in interwoven compositions of peculiar figures, bring out narratives of life that transcend time and space. Alongside realistic renditions came a new attempt at spiritual explorations. For the viewers, these creative productions are openings to dreams, to the essence of arts, in which the window becomes an artistic witness to the brutalities or beauties occurring in the world. The possibilities are furthered in current times as we increasingly explore the outlooks of the future through the window (screens).
Biographies
Marion Flament
Flament develops her work around everyday life experience by the observation of physical phenomena and sensations linked to our immediate environment, in order to enquire about our personal practice of space. By steeping herself in the soul of the site, she creates bespoke and poetic installations, in the form of artistic performances far more than artwork. Through the evocative power of these elements, she seeks to create spaces that can translate feelings and provide sensations, emotionally charged spaces.
---
Jean Marie Haessle
The artist was born in Buhl, Haut-Rhin, France. After living for a few years in Paris, he moved to New York City in 1967 where he still works and lives in his studio on Spring Street in Soho. Over the years, he had numerous shows in the US, New York, Miami, Texas and California, France and Italy. In the mid 80s he worked for a period in France (Paris, Lyon, and Cannes). In the late 90s he worked in Mexico (San Miguel de Allende) where he had a one-man show in 1997 in the Museo de Art in Queretaro. He had a survey exhibition of the last thirty years of his work at the Korean University Museum, Seoul, Korea in spring 2014 and a major one-man show in the Namu Modern & Contemporary gallery in Seoul in September of the same year. In September 2016 he had a sold-out show at the Wada Garou gallery in Tokyo, Japan. In recent years, he had numerous shows in Korea, Seoul, and Busan as well as in Japan, Tokyo, Kyoto, and Osaka.
---
Béchir Boussandel
He is an artist living and working in Lille, France. His work questions identity by questioning the space of time and the time of space. He is interested in the boundaries that seem to exist between intimate and public space. Most often, the demonstration of this duality involves everyday objects whose function is related to territory, mobility, appropriation or habitat. Boussandel's work is included in the collections of the Deji Art Museum in Shanghai, China, and the Museum of African Contemporary Art Al Maaden in Marrakesh, Morocco.
---
Baptiste Tavernier
Baptiste Tavernier is a French artist based in Tokyo. He is the architect of a complex artistic multiverse encompassing dystopian structures, experimental music, photography, painting and digital arts. Drawing from a solid history of international exhibitions and transdisciplinary collaborations, he further expands his polymath oeuvre with intense concern with pattern and logic, relentless exploration on craft discipline, and creativity without horizons. He now focuses on creating mixed media art that combines 3D printing technologies with traditional painting or photographic techniques.
Presented by


Co-organised by