French Music Project at CUHK
Venue:
Lee Hysan Concert Hall, The Chinese University of Hong Kong
Admission :
Free admission with registration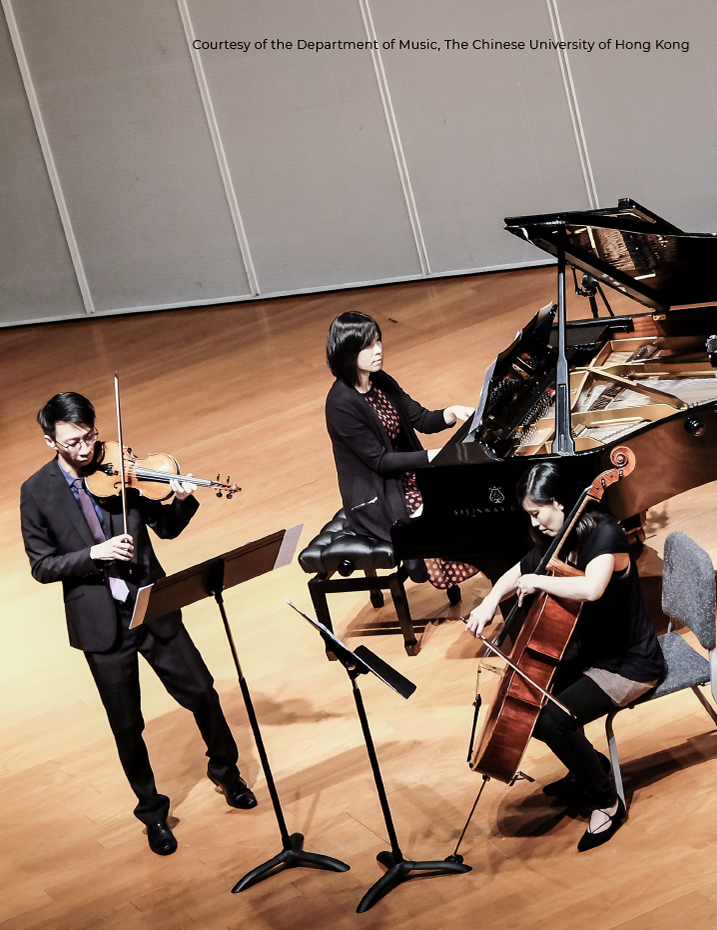 French Music Project at CUHK
French Music Project at CUHK 2023 brings together its talented students and performance faculty for collaboration and exploration of French music. Together with students from the Department of Music, pianist Poon Kiu Tung and guest artists will perform chamber music from 19th to 21st century greats.
Creative Team List
Project Director: Poon Kiu Tung
Performers: Poon Kiu Tung, guest performers, students from CUHK Music Department
Programme
Saint-Saëns (1835-1921)
Danse macabre, Op.40 (1874) for 2 pianos 8-hands
Mélanie Bonis (1858-1937)
Suite en Trio, Op. 59 (1903) for flute, violin and piano
Darius Milhaud (1892-1974)
Suite Op.157b (1939) for violin, clarinet and piano
Saint-Saëns (1835-1921)
Tarentelle, Op. 6 (1857) for flute, clarinet and piano
Intermission
Claude Debussy (1862-1918)
Selected French Mélodies

Gabriel Fauré (1845-1924)
Selected French Mélodies
Biography
Young Steinway Artist Kiu Tung Poon appeared as recitalist and collaborative pianist on concert stages in the US, UK, France, Germany, Portugal, Vienna, Singapore, Malaysia, Hong Kong, Macau, and Mainland China. International music festival appearances include Tanglewood and Aspen in the US, Wiener Konzerthaus in Austria, Great Wall in Beijing, and French May Arts Festival in Hong Kong. Her performances were broadcasted on RTHK Radio 4, Austin's KMFA, and Teledifusão de Macau among others.
As an advocate of new music, she was privileged to work with today's foremost American and Chinese composers and has given numerous lecture-recitals and performances in the US, Asia, and Europe on Chinese-Western syncretism. Her album with violinist Patrick Yim on living American composers is released on Naxos label at 2022. Her latest recording project is on piano works by Chinese-American composers. Her world première of Mark Morris/Samuel Barber's Excursions with Mark Morris Dance Group in the Tanglewood Music Festival received an enthusiastic review by critics writing for The New York Times and Boston Phoenix.
Graduated from the Indiana University Bloomington and the University of Texas at Austin with a DMA in Piano Performance, her principal mentors were Cheng Wai, Jean-Louis Haguenauer, Gabriel Kwok, and Anton Nel. She also worked with Michel Béroff, Claude Frank, Jean-François Heisser, John O'Conor, Garrick Ohlsson, John Perry, and Manahem Pressler during summers. She currently teaches at her alma mater The Chinese University of Hong Kong as a lecturer in performance and serves as the performance stream coordinator in the Department of Music.
Presented by