Archifictions
Date:
01 MAY - 26 MAY 2023
Venue:
TwentyCinco Gallery
Admission :
Free admission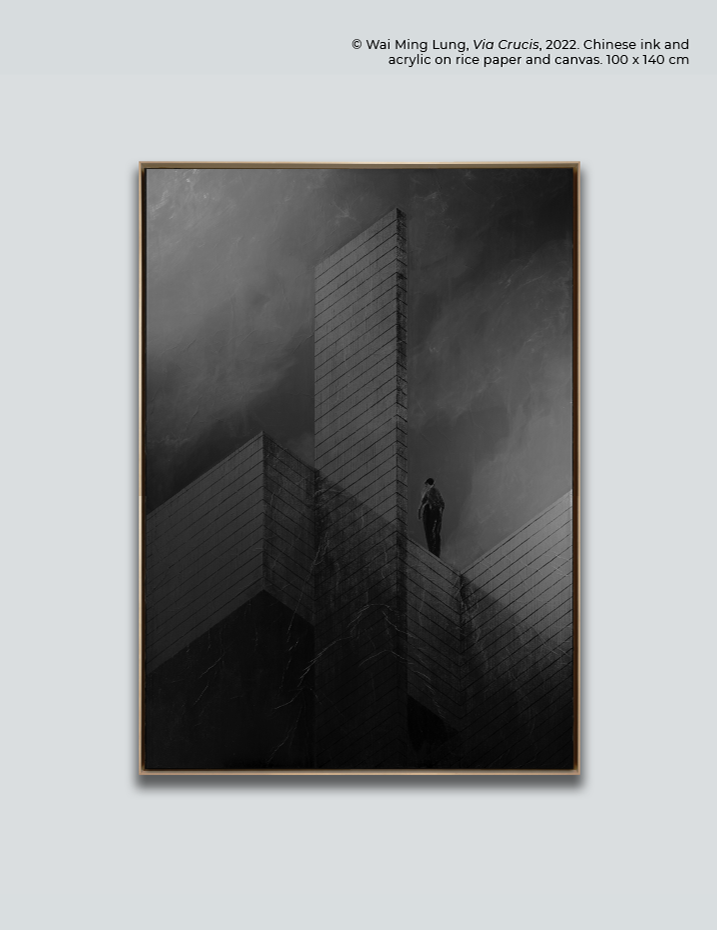 Archifictions
TwentyCinco is pleased to present Archifictions, the first solo exhibition of Wai Ming Lung in Hong Kong. Archifictions is an ongoing explorative series of works that channels Lung's fascination with modern architecture. Inspired by the massive silhouettes and geometric lines, he imagines and depicts fictional narratives bathed in brutal realism as well as contemplative reverie, through paintings, drawings, and texts. Each painting is executed with successive layers of black, mixing techniques from both of the artist's cultures: canvas, paint, and inks.
Born in Hong Kong, Wai Ming Lung studied at École Nationale Supérieure des Arts Décoratifs in Paris, where he was introduced to painting, graphic design, textile design, and photography. After living through many different lives, as a fashion designer in haute couture, a creative director in advertising, or a food critic, he decided to return to the arts in 2019.
Exclusively monochromatic, his works always revolve around intimate topics such as alienation, spleen, ideals, sex, death, the passing of time, and fading memories, but never without the obsession of infusing poetry in the trivial and the meek.
Wai Ming Lung lives in Paris and Brussels.
TwentyCinco Gallery
TwentyCinco is a private venue located in a penthouse with a private rooftop of 3000sqf and a 360° view.
TwentyCinco is the encounter of two art lovers, Gil Bourgeois and Jeremy Weltmann. Its mission:
To accompany the artists in the art market, to expose them, and develop their visibility through various media.
To advise collectors, to direct them towards artists and pieces in which we identify potential, that will constitute a patrimony both profitable and coherent.
Every week, TwentyCinco invites an eclectic population to discover the work of artists (collectors, artists, politicians, finance) at Sai Ying Pun from 7pm to 7am to observe paintings. The place goes beyond the simple stage of a gallery to become a place of meeting and exchange.
Some come to buy, others to have fun, others to learn, others to network.
Presented by