Modern Sound of Winds
Venue:
Lee Hysan Concert Hall, The Chinese University of Hong Kong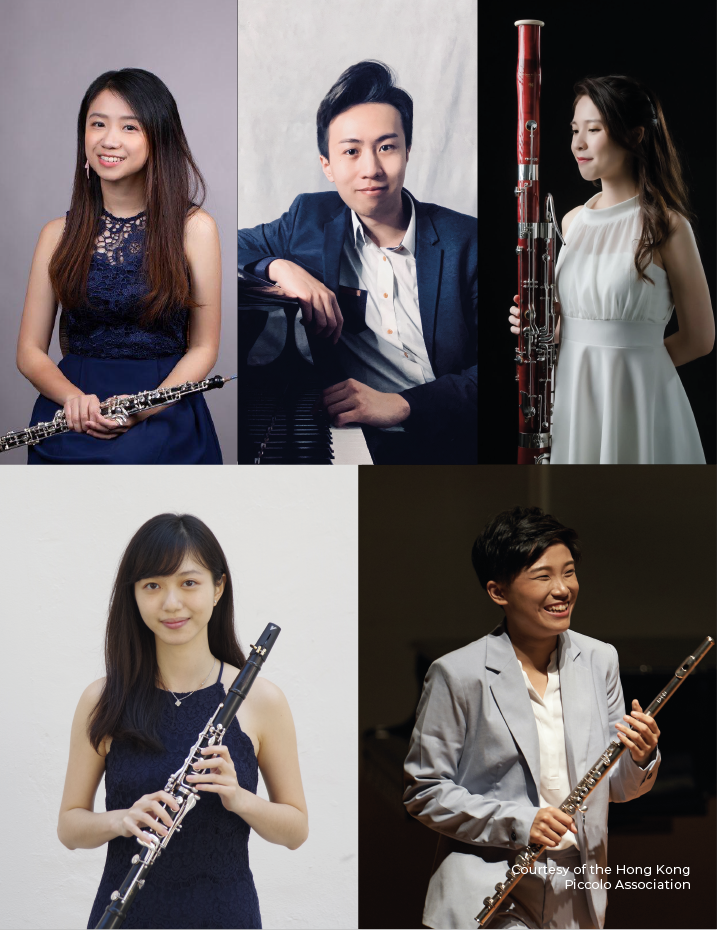 Modern Sound of Winds
Paying homage to the Société moderne d'instruments à vent from 20th century France, Ensemble Fioritura will present some hidden gems of the era in different chamber combinations. Aiming to create new repertoire for wind instruments, they will feature two world premiere commissions for winds and piano, written by composer-pianist Lance Mok.
Creative Team List
Composer-pianist: Lance Mok
Flautist: Karen Wong
Bassoonist: Hazalen Tang
Clarinettist: Theresa Lam
Oboist: Carol Chan
Programme
Jean Françaix (1912-1997): 12.5'
Wind Quartet (1933)
Allegro
Andante
Allegro molto
Allegro vivo
Darius Milhaud: 17'
Sonata for Flute, Oboe, Clarinet, and Piano, Op. 47 (1918)
Tranquille
Joyeux
Emporté
Douloureux
Lance Mok (b. 1994) 8'
The Fabricator of Joy, Op. 17 (2022, World Premiere)
Grave, molto doloroso
Joy. Joy. Joy.
-Intermission-
Jacques Ibert (1890-1962): 7.5"
Deux Mouvements (1922)
Allant
Assez vif et rythme
Lance Mok (b. 1994) 7'
Encounters, Op. 18 (2022, World Premiere)
André Caplet (1878-1925): 26'
Quintet for flute, oboe, clarinet, bassoon & piano (1899)
Allegro
Adagio
Scherzo – Très vif
Finale – Allegro con fuoco
Ensemble Fioritura
Formed in 2022, Ensemble Fioritura aims to discover and promote music for woodwind and piano. Hong Kong-born artists Karen Wong (flute), Carol Chan (oboe), Theresa Lam (clarinet), Hazalen Tang (bassoon), and Lance Mok (piano/composer) join together to present this programme. They have all obtained their master's in music overseas, in the UK and the US respectively, after graduating from The Chinese University of Hong Kong. Apart from having professional career as soloists, orchestral and chamber musicians, they are also dedicated in education or composition. As such, their musical footprint is all over the world. Ensemble Fioritura is delighted to share the joy of music with audiences.
Ticketing Information
Tickets will be available at art-mate from 21 April onwards.
Please visit www.art-mate.net for more ticketing and discount information.
Full-time students, senior citizens aged 60 or above, people with disabilities and minders, and CSSA recipients.
Group booking
10% off for 10 or more standard tickets
Audiences can enjoy only one of the above discount schemes for each purchase.
The running time of the performance is approximately 1 hour and 40 minutes including an intermission of 15 minutes.
Audience members are kindly reminded that the latest Prevention and Control of Disease Regulations and related vaccine bubble requirements implemented by the Government at the time of the performance must be complied with. Changes to existing arrangements may occur in light of new pandemic measures and government directives. Please refer to government announcements for updates.
Presented by