Date:
11 MAY - 13 MAY 2023
Venue:
Y Theatre, Youth Square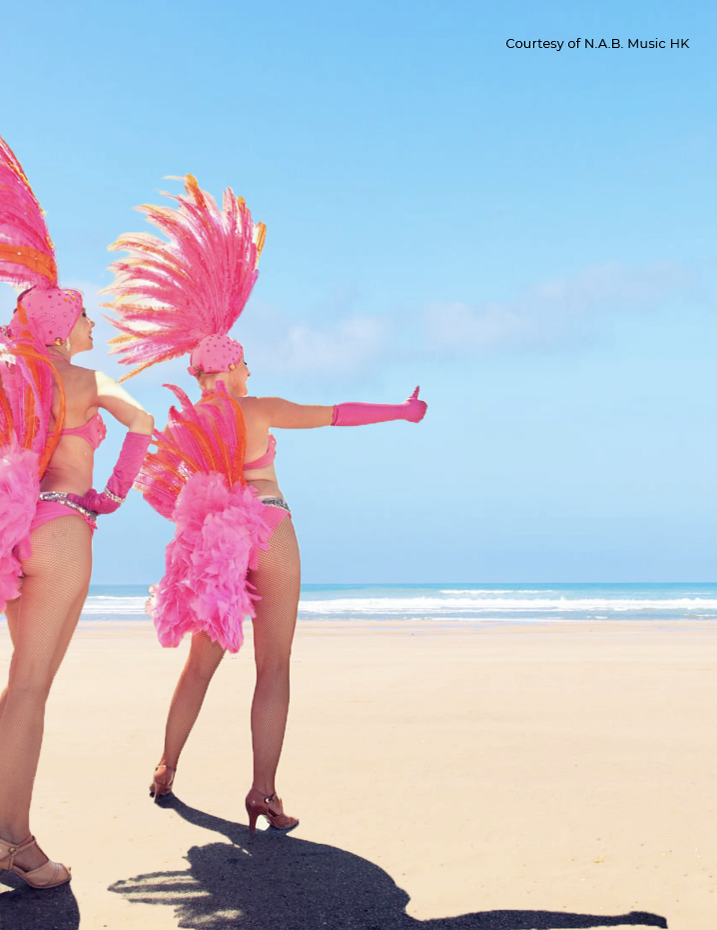 When a solar storm hits the holiday resort Mer Calme, located on a small island in Southeast Asia, everyone, tourists, and staff alike, see their daily lives turned upside down. There is no electricity, no internet, and no food supply. Therefore, they will have to inhabit together, for better or for worse.
In a musical atmosphere, find colourful characters who will make you think about our dependence on technology in our modern society.
Mer Calme is a musical that asks essential questions about the functioning of our time, punctuated by the most beautiful songs of various French artists of yesterday and today.
A play with six characters with very different personalities who will have to learn to live together for better and for worse!
Creative Team List
Artistic and Musical Director: Nasthasia Faure
Choreographer: Kim Petersen
Directors: Lam Wang Ming, Karine Yoakim-Pasquier
Performers: Charline Ambrogi, Juliette Assouad, Bilo Dia, Felicie Doumenc, Nasthasia Faure, Letizia Garcia Casalino, Delphine Giron, Mélanie Janson, Inès Kwai-Pun, Calie Lassus, Arthemise Le Saint, Bertrand Leduby, Victor Martin, Nina Martin, Marie-Line Meillassoux, Paul Milon, Gaëlle Néau, Thuy Anh Nguyen, Audrey Onolfo, Pierrick Pejoux, Margaux Peloux, Jean-Baptiste Peloux, Kim Petersen, Segolène Ronsin, Alice Saulnier, Alicia Semaille, Ingrid Sera-Gillet, Hugo Serge, Violaine Trelluyer, Vissakha Wallace
Programme
With the songs of the following French-speaking artists: Alain Souchon, Francis Cabrel, Angèle and more to come
Biographies
Nasthasia Faure, Artistic and Musical Director
Nasthasia studied at the International 'Musical School' – AICOM – and at Conservatoire de Paris, with a specificity in jazz. Since moving to Hong Kong in 2018, Nasthasia launched her music school 'Nasthasia Music HK' and organises quarterly concerts. She takes part of Mayaa HK. She has worked with HKTA as a composer, vocal coach, and singer/pianist for the show 'Shoot in the back'. Most recently she has composed all the songs of the musical Peter Pan et L'Enfant de l'oubli. Nasthasia is producing her first musical 'Il jouait du Piano debout in 2021, then a second in December 2021, Panique au Pôle Nord, Mer Calme will be her third one.
---
Kim Petersen, Choreographer
Kim is a professional dancer, educator and choreographer. Over the last decade, Kim has dedicated her life in Hong Kong to a career in youth and special needs education. She mainly works with schools and non-profit organisations to create inclusive and meaningful spaces for individuals to express themselves through movement. Kim recently choreographed the Hong Kong Players' 61st pantomime, "Robin Hood, The Panto!" and has been involved in various artistic projects such as 18dART's "Bring in 'Da Music", "The Dance WE Made @West Kowloon" and now looks forward to bringing "Mer Calme" to the stage!
---
Lam Wang Ming – Stéphane Lam, Director
Founder of the Pavillon Rouge des Arts Hong Kong (PRAHK), specialising in artistic cooperation between Europe and China, Stéphane produces numerous shows, projects, and documentaries, between Chinese, Asian, French, and European culture.
Since 2012, he has created and produced several shows: "The mirror", "Baroque in the land of the sons of the sky", the exhibition "Wifredo Lam and the poets", as well as the documentaries "Au port des mots", and "La ville over the water", etc.
In 2021, he created a documentary, hosted a conference on surrealism as part of the Mythologies exhibition at the HKMOA, and composed the music for the play, Larger than Life.
---
Karine Yoakim Pasquier, Director
Karine Yoakim-Pasquier is a Swiss author who lives in Hong Kong since 2018. She loves travelling and discovering new cultures. She creates plays for young audiences, teaches acting, runs an author's club, and invents stories. Her first novel: Oublier Gabriel was released in March 2022 by Torticolis et Frères Publishers, followed in April by A la poursuite du dragon, a children's book. She is currently working on an album for children, which will be published in English, French, and simplified Chinese in January 2023, and another youth novel, which will be released in March 2023.
Ticketing Information
Tickets will be available at Ticketdood from 22 March onwards.
Please visit www.ticketdood.com for more ticketing and discount information.
The running time of the performance is approximately 1 hour and 45 minutes without intermission.
In French, with Chinese and English surtitles.
Organised by


Supported by


Sponsors