Date:
10 JUN - 11 JUN 2023
Venue:
Hong Kong Cultural Centre Grand Theatre
Admission :
$480 / $380 / $280 / $180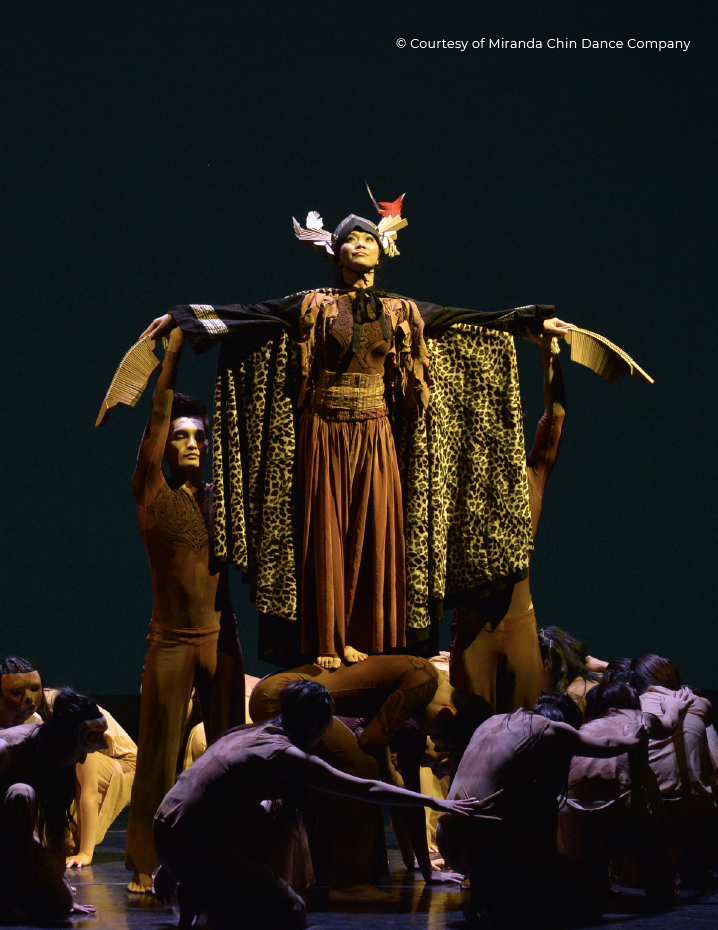 The performance includes The Rite of Spring and Hè Dancing with The World.
The Rite of Spring: Composed by Igor Stravinsky and choreographed by Vaslav Nijinsky, it was first performed at Paris in 1913, which caused a sensation, and many have called the first-night reaction a "riot". At its 110th anniversary, Miranda Chin Dance Company choreographs again with creativity, with the essence of Eastern and Western dances, typical martial arts – tai chi. Aspiring to reflect the uniqueness of Hong Kong culture, it is a tribute to the composer, enhancing the cultural and artistic exchange with France, to reach a mutual harmony by modern dance.
Hè Dancing with The World: "Bring out the essence of Chinese culture with dances; achieve a healthy future with movements". Promoting Hong Kong as an international financial centre, and in the long run as a city of culture and wisdom; a balance between material needs and spiritual wellness to enable Hong Kong to achieve harmony and to share this with the world.
Blending the essence of Eastern and Western dances, we hope this performance can be considered as part of the 14th Five-Year Plan for National Economic and Social Development of the PRC: Hong Kong – being the East-meets-West Centre for International Cultural Exchange.
Creative Team List
Artistic Director / Choreographer: Miranda Chin
Martial Arts Tai Chi Instructor / Advisor: Tsui Siu Ming
Internationally Renowned Qi Dance Health Culture Expert / Guest Dancer: Ke Wen
Music Director: Chan Ming-chi
Arts Tech Audio Visual Team: Mathias Woo and Zuni Icosahedron
Costume Designer: Agnes Chin
Rehearsal Master: Icey Lam Yan Tin
Dancer: Company dancers & the HKAPA School of Dance graduated dancers
Biographies
Dr. Miranda Chin – Artistic Director / Choreographer
Miranda Chin, a modern dance choreographer of the first generation in Hong Kong. Her subsequent productions, built upon the uniqueness of Hong Kong culture and known for their originality, smoothly blend the essence of Eastern and Western dances in more than one hundred pieces of dance works. In 1980s, she studied Chinese Dance and Modern Dance-the Laban Movement Analysis in Beijing and New York respectively. Miranda obtained her Doctorate Degree in Business Administration upon graduation from Newport University of United States; Master Degree in Choreography from The Hong Kong Academy for Performing Arts.
Her dance works including The Dream of Red Chamber, Innovative Chinese Rhythms and Movements, Calligraphy Fantasia, Pan Jinlian, The Highest State of Good – Water, and a series of eight episodes "Martial Arts & Tai Chi", which have been staged in London, New York, Canada, Beijing, Singapore, Malaysia, the Philippines, Thailand, and Korea. Miranda wrote "Wuji" and her autobiography "I Dance From Nothingness".
Miranda won Dancer of the Year Award from the Hong Kong Artists' Guild in 1989 and was awarded for her outstanding achievements in dance locally and internationally. She has also been listed in the Top 100 Artists 2017 from the International Biographical Centre of Cambridge, England.
---
Tsui Siu Ming – Martial Arts Tai Chi Instructor / Advisor
Tsui Siu Ming is a Hong Kong-based actor, screenwriter, film producer, assistant director, production manager, and action choreographer.
A native of Guangdong, Tsui was once a recognised child star. He had tried his hand at singing during the 1970s and 1980s, held several concerts, and was rewarded with the Hong Kong Gold Disc five times.
Tsui started learning traditional Chinese martial arts since he was 9 years old. He was the martial arts choreographer in Poison Rose and the Bodyguard, Born to Defence, Blood Ritual, and The Revenge of Angel.
He worked for ATV in 1998 and became CEO of Emperor Motion Picture in the subsequent year where he was responsible for film and TV business development.
---
Ke Wen – Internationally Renowned Qi Dance Health Culture Expert / Guest Dancer
Ke Wen liked dance and literature since she was a child. She majored in French language and literature in college. After graduation, she studied systematically, Acupuncture and Tuina.
She is also a Doctor of traditional Chinese sports, an internationally renowned health culture expert, a writer, Wudang martial arts culture successor. At the end of 1992, she settled in Paris, France and established the "Oriental Culture Communication Centre" in Paris, France, spreading martial arts, tai chi, qigong and qi dance all over the world. Established a professional training school for qigong, traditional Chinese medicine, tai chi and qi dance. It has trained nearly 1,000 qigong instructors and nearly 100,000 students.
The qi dance series she created is a combination of qigong and modern dance, focusing on spirituality and "the harmony between man and nature" realm, focusing on the gap between the current energy and the environment Pass and Collision. For over twenty years, Qi dance is a cross-cultural collision, created in cooperation with many French artists and music festivals. Dozens of Qi dance performances by themselves every year during the Spring Festival.
---
Chan Ming-chi – Music Director / Composer
Chan Ming-chi received his composition training at The Hong Kong Academy for the Performing Arts, Tokyo National University of the Arts, Elizabeth University of Music, and Shanghai Conservatory of Music respectively. His musical language covers a characteristic perception of sounds and their attribute, reflecting the consideration and integration of various factors such as the nature of sound itself. Currently, Chan is professor of Xinghai Conservatory of Music, Director of Soundscape Laboratory, composer of Hong Kong Festival Wind Orchestra and Guangxi Dance and Song Company Limited, and is committed to teaching, research and practice in composition, sound design, acoustic ecology, the interaction between music and moving images, body movements. Chan was awarded artist of the year (music) by the Hong Kong Arts and Developments Council in 2018.
Ticketing Information
Tickets will be available at URBITIX from 28 April 2023 onwards.
Please visit www.urbtix.hk for more ticketing and discount information.
50% off for full-time students, senior citizens aged 60 or above, people with disabilities and minders and CSSA recipients (Limited quota, first come, first served).
Group booking
5% off for 4 – 6 standard tickets
10% off for 7 or more standard tickets
Audiences can enjoy only one of the above discount schemes for each purchase.
Complimentary and/or special offer tickets will be reserved for the professionals in the education sector, such as principals, teachers, and dance students; representatives and members from social welfare organisations.
The running time of the performance is approximately 90 minutes including an intermission of 15 minutes.
Audience members are kindly reminded that the latest Prevention and Control of Disease Regulations and related vaccine bubble requirements implemented by the Government at the time of the performance must be complied with. Changes to existing arrangements may occur in light of new pandemic measures and government directives. Please refer to government announcements for updates.
Presented by


Sponsored by


Supported by