M‧eureka! Woodwind Chamber Recital: Un Voyage en France
Venue:
Recital Theatre, China Congregational Church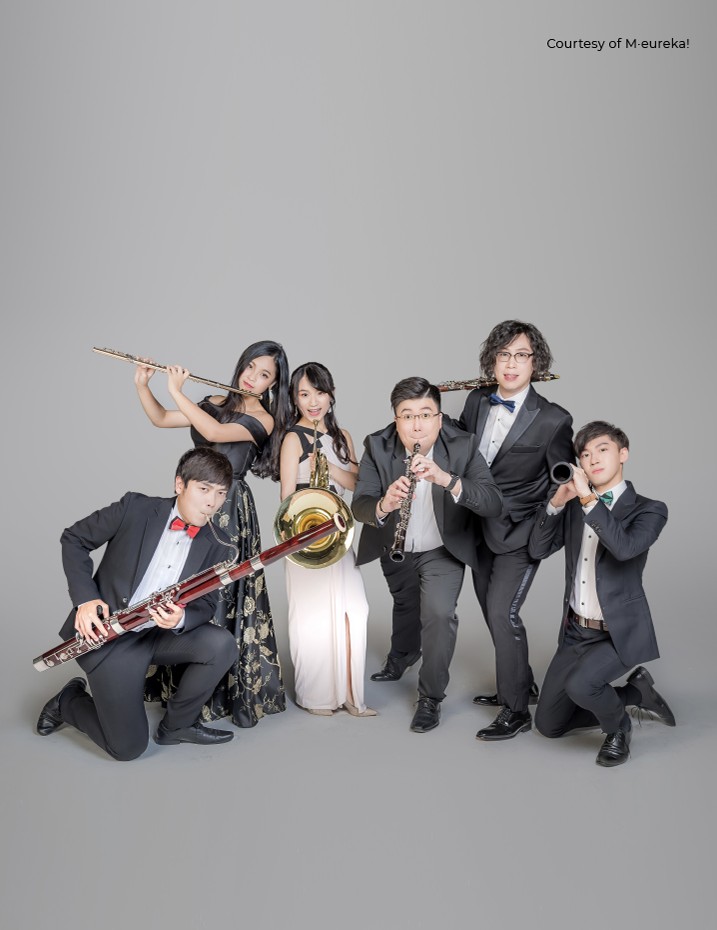 M‧eureka! Woodwind Chamber Recital: Un Voyage en France
This year, local woodwind chamber ensemble – M‧eureka! will present various French repertoire from the Romantic period, with a mixture of original compositions from Poulenc and arrangements of various French composers by our musicians, performing contrasting music from Bizet's famous opera – Carmen to Debussy's outstanding piano work – Clair de Lune, instrumentations from a woodwind trio to a woodwind sextet, utilising the different colours from a woodwind ensemble as much as possible. Come enjoy and explore the beauty of French music from a different timbre with us, and let us share the eureka moments of woodwind chamber music with you in the concert.
Creative Team List
Performers: Chan Kar-man, Cheryl, Fung Chi-chuen, Frederick, Ho Chun-yip, Dell, Hui Ka-ching, Alice, Lam Ka-ki, Kelvin, Liu Tung-bo, Tommy
Programme
Francis Poulenc (1899 – 1963)
Sextet, FP 100
Allegro vivace
Divertissement: Andantino
Finale: Prestissimo
Darius Milhaud (1892 – 1974) arranged by Chan Kin-hei, Fox 3 Rag-Caprices for piano
Erik Satie (1866 – 1925) arranged by Hui Ka-ching, Alice Je Te Veux
Georges Bizet (1838 – 1875) arranged by Jean-François Taillard Carmen Suite
Claude Debussy (1862 – 1918) arranged by Hui Ka-ching, Alice Prélude à l'après-midi d'un faune
Claude Debussy (1862 – 1918) arranged by Emily Tsai Clair de Lune
Jacques Ibert (1890 – 1962) arrangement* Divertissement
Parade
Finale
Gabriel Fauré (1845 – 1924) arrangement* Après Un Rêve, Op. 7 No.1
Camille Saint-Saëns (1835 – 1921) arranged by Ho Chun-yip Le Cygne (The Swan)
M‧eureka!
M‧eureka! is a newly founded chamber group by local professional musicians who all graduated from The Hong Kong Academy for Performing Arts. Some musicians obtained their master degrees in Germany, France, United States and Hong Kong, and many of them work as full-time and freelancers in professional orchestras including Hong Kong Philharmonic Orchestra, Hong Kong Sinfonietta, and City Chamber Orchestra of Hong Kong.
The "M" in M‧eureka! stands for music, and the exclamation "Eureka!" is attributed to the Ancient Greek mathematician Archimedes. He got the answer and reportedly proclaimed "Eureka! Eureka!" meaning "I found it!" in Greek. Since then, "eureka" became an interjection used to celebrate a new discovery or invention.
M‧eureka! aims to bring to their audiences musical "eureka moments". Their repertoire includes not only traditional chamber music but mostly newly arranged orchestral works. They hope to wow the audiences and provide them new insights by playing some conventional symphonic or piano works with new instrumental timbre. M‧eureka! is also eager to promote classical music in Hong Kong. They intend to show the essence of classical music by playing the most appealing bits of the well- known masterpieces to ease the general public into the world of classical music.
Ticketing Information
Tickets will be available at art-mate from 1 May onwards.
Discounted tickets are available for full-time students, senior citizens aged 60 or above, people with disabilities and minders, CSSA recipients (Limited quota, first come, first served).
Organised by