Urban Pop Odyssey – Dualities of Metropolitan Life
Date:
01 MAY - 15 MAY 2023
Time:
Tue – Sat: 12nn – 6pm; Sun, Mon, and Public Holidays: By appointment
Venue:
Artaflo Collective – Wong Chuk Hang Gallery
Admission :
Free admission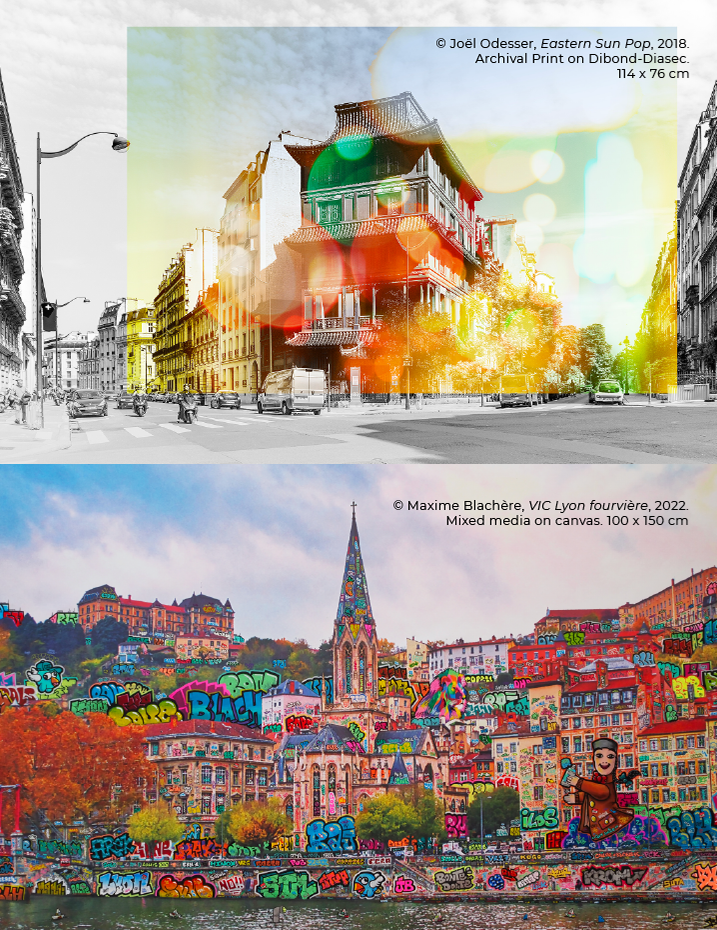 Urban Pop Odyssey – Dualities of Metropolitan Life
Artaflo proposes exclusively for French May 2023 a choice of carefully curated artworks from two devoted French artists expressing the contrasts and bridges between urban environments and their living souls. Utilising the contrast of light and photography the artist Joël Odesser creates magical portraits of urban backdrops that transcends the mundane urbanscape. The artist Maxime Blachère paints life into iconic urban landmarks adding fun and vibrancy with a hint of humour and provocation. The viewing experience will also be enhanced by viewing the artworks in both physical and NFT forms, thus helping educate the public on new forms of art enjoyment and collection.
Cities and their citizens are plagued by the rate of "Urbanisation", living in a flux between dreams and reality where daily life becomes a battle with what is real and fake. In a concrete city void of colours, hope can be found injected with vibrant colours that heal the soul and charges our lives with new energy for us to see our world in a new light.
About Artaflo Collective
Since inception Artaflo Collective has been showcasing new and emerging artists from all over the world, we have grown to become a gallery that is unique and without equal, with a careful curation that ranges from China to Thailand, to Brazil to Côte d'Ivoire, and more. Artaflo features a diverse collection of paintings, installations, NFTs, and rare items that would not be seen in more traditional collections, such as rock art, fossils, corals, and more. Their radical portfolio is due to their ethos that art needs to be all-inclusive, art should never be limited or conform to any status quo, and should be celebrated in all its manifestations. To Artaflo, art is not only a trade but a place where those like-minded, who see beauty in every form and culture, come together.
Biographies
Joël Odesser
Joël Odesser is a French visual artist and photographer. His passion is rooted in early childhood, having grown up in a family of photographers. Joël finds inspiration from the cultures of the places he lived in and travelled to. Settling in multiple continents has shaped his eye and photographic expression as he came to be fascinated by the contrasts, conflicts, and interactions between people, saturated urban environments, and nature. Collage techniques of overlapping photographs help him express these complicated relationships. His works won many prizes in recent years such as the 2022 Moscow International Foto Awards (MIFA), 2021 Tokyo International Foto Awards (BIFA), Budapest International Foto Awards (BIFA), 2020 Prix de La Photographie Paris (PX3), and London International Creative Competition (LICC).
---
Maxime Blachère
Maxime Blachère is a Fluxus artist, coming from a small village in the French Savoy. His art is now present in twenty-five countries, exhibited in several art galleries in Europe, the United States, and Asia. Self-taught and a jack of all trades, his sources of inspiration are multiple. Comics, pop culture, photography, and street art are just a few of them. He experimented with graphic design in 2009 while working as a PE teacher, and with the enthusiasm he received for his creations on a blog, he began devoting himself to his art full-time in 2016. His Vandal is colour series is where Maxime takes pleasure in virtually vandalising urban landscapes around the world. VIC stands for "Vandal is Colour". For him, all tags and graffiti are art. His paintings are utopian or post-apocalyptic visions of cities. Maxime grew up in Savoie, up in the Alps, and he never liked the city except for the graffiti that put colour on the grey walls. He likes graffiti and landscapes, as well as humour and provocation. Maxime's works are presented by galleries, Fineart Miami, Nextstreet Gallery Paris, and many more around the globe. With a universe that is both fun and colourful, Maxime humorously engages the whole world. In 2019 he created the largest fresco ever for Tour de France Cycling.
Artist Talk
6 May 2023 (Sat) | 5 – 5:30pm
Presented by


Sponsored by