Musica Viva × French May — An Enchanted Evening of Mélodies Françaises
Venue:
Concert Hall, Hong Kong City Hall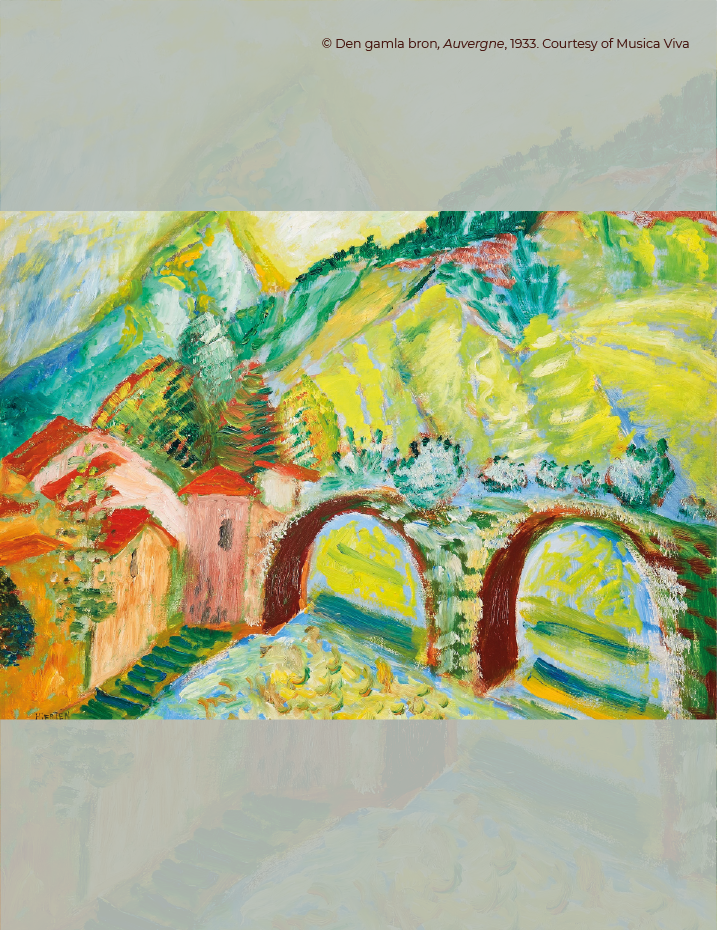 Musica Viva × French May — An Enchanted Evening of Mélodies Françaises
Co-presented by French May Arts Festival and Musica Viva, produced by Prof. Lo Kingman, this programme features budding local singers performing a selection of songs while accompanied by a chamber ensemble and two contemporary dancers. Such a combination provides the audience with a refreshing audiovisual experience. The audience in Hong Kong will get to know the rarely performed but ravishing music by French composers like Berlioz and Canteloube.
Pre-show Talk
A chance to hear the artistic director introduce the French composers and repertoires, which will take place in the Committee Room South (7/F, high block, Hong Kong City Hall) at 7 pm on May 27. Free admission for ticket holders.
The running time of the performance is approximately 1 hour 15 mins without intermission.

Creative Team List
Artistic Director: Lo Kingman
Choreographers and Dancers: Alice Ma, Lau Pak Hong
Singers: Colette Lam, Carol Lin, Dennis Lau, Isaac Droscha
Wind Quintet: Viva! Pipers
Harp: Jennifer Ho
Piano: Ingrid Chan, Anna Ngai
Colette Lam
Soprano Colette Lam has appeared in numerous principal operatic roles in Hong Kong and Europe, including La Fille du Régiment, Rigoletto, La Traviata, and Romeo et Juliette produced by Musica Viva. Her major concert credits include art songs recitals, oratorios and symphonic concerts. After graduating from The Hong Kong Academy for Performing Arts, she obtained a Master of Music degree in Voice at the Royal Academy of Music, London, and a master's degree in advanced vocal studies with Distinction at the Wales International Academy of Voice, Cardiff. Lam has been selected to participate in masterclasses given by Dame Kiri Te Kanawa, He Hui, Conductor Richard Bonynge, Barbara Bonney, and Nelly Miricioiu. In 2015, Lam was awarded a full scholarship from 'Fondation Michelle' in Luxembourg.
Carol Lin
"Mezzo-soprano Carol Lin's versatile singing was breathtaking." - South China Morning Post
Carol Lin is one of the leading mezzo-sopranos in Hong Kong. She has taken principal roles in opera productions in Hong Kong and international companies including the title role of Carmen, Maria de Buenos Aires, Santuzza in Cavalleria Rusticana, Suzuki in Madama Butterfly, etc. Lin has appeared as soloist in many concerts by renowned orchestras such as Boston Philharmonic Orchestra, Aspen Chamber Symphony, The Philharmonic Orchestra Singapore, Hong Kong Philharmonic Orchestra, and Hong Kong Sinfonietta. Lin joined the world-class soprano Anna Netrebko to perform at the 51st Hong Kong Arts Festival in 2023.
A native of Hong Kong, Ms. Lin graduated from The Hong Kong Academy for Performing Arts and holds a Master of Music in Vocal Performance and Opera from the New England Conservatory of Music in the US. She was a vocal fellow of the Aspen Music Festival in Summer 2006 and 2007. In 2013, she won the regional round of the 32nd International Hans Gabor Belvedere Singing Competition. She has also won First and Third Prize in international singing competitions held in Japan and Italy respectively.
Dennis Lau
An active tenor in Hong Kong, Dennis Lau studied voice with Italian soprano Isabel Gentile and baritone Roberto Abbondanza. After graduating from Italy, he has performed different roles in numerous opera productions, namely Sesto in Handel's Giulio Cesare, Fracasso in La Finta Semplice and Ferrando in Così fan tutte by Mozart, Le Remendado in Bizet's Carmen, etc. He was invited to sing as a soloist in many concerts, including Beethoven's Symphony No.9, Bruckner's Te Deum, Haydn's The Creation, and Schubert's Mass in A-flat major.
Apart from performing, Lau is also a choral conductor and vocal teacher in Wah Yan College, Kowloon Old Boys' Choir, Pun U Association Wah Yan Primary School, and Fukien Secondary School (Siu Sai Wan).
Isaac Droscha
Isaac Droscha received his Doctorate in Vocal Performance from the University of Michigan and is currently a faculty at The Hong Kong University of Science and Technology. He has performed numerous operatic roles in the United States, the Czech Republic and Hong Kong. His repertoire includes works by Mozart, Rossini, Donizetti, Johann Strauss II and Stravinsky.
Droscha has sung numerous roles in Musica Viva's opera productions, including Dulcamara in L'elisir d'amore, Escamillo and Dancaire in Carmen, Benoit in La Bohème, Malatesta in Don Pasquale, Sharpless in Madama Butterfly, Papageno in Die Zauberflöte, and Count Almaviva in Le Nozze di Figaro. Droscha is a prolific concert performer and has sung as soloist in symphonic concerts and oratorios as well as art song recitals in the United States, Russia and Hong Kong.
Viva! Pipers 非凡管樂派
Viva! Pipers is a woodwind quintet of five talented Hong Kong musicians. Individually, they all play an active role as freelance players in orchestras such as the Hong Kong Philharmonic Orchestra, the Hong Kong Sinfonietta, the City Chamber Orchestra of Hong Kong, the Pan Asia Symphony Orchestra and the Macao Orchestra after returning from their postgraduate music studies in England, America, France and Australia.
As a quintet established in 2014, they bring lively music into the community and involve the audience in their music by playing, singing, dancing, storytelling and interactive performances. They have appeared in community concerts organized by Music Children Foundation, Credit Suisse, Hong Kong Land, Asia Society, Chamber Music For Life Hong Kong and the Hysan Place. They have also been invited by the JCI to be the guest performers for the Ten Outstanding Young Persons Selection 2018 and the Chinese University of Hong Kong to share their music in the Midday Oasis lunchtime concert.
Since 2015, Viva! Pipers has been collaborating with the Premiere Performances of Hong Kong under the "Chamber Music In Schools" programme to give live performances at local and international schools in Hong Kong. They visit 20 schools and perform to over 3000 students yearly. From 2018 onwards, the programme was fully supported by BNP Paribas. In 2021, they reached more than 100,000 student audiences. Viva! Pipers also appeared at the Family Concert Series organized by the Premiere Performances of Hong Kong, reaching out to more families from all walks of life and sharing woodwind quintet music with their audience in a way that is exceedingly fun, fresh and joyful. The group received great support and positive responses from the full house audiences in the family concert 'Peter and the Wolf' in 2019.
Jennifer Ho
Jennifer Ho has been one of the most active harpists in her generation in Hong Kong. Ho obtained her Master of Arts degree with Merit from the Royal Academy of Music, London and the University of London, majoring in harp performance.
She works as a harpist for local professional orchestras, freelancing for orchestras such as the Hong Kong Philharmonic Orchestra, City Chamber Orchestra of Hong Kong, the Hong Kong Chinese Orchestra, Macau Orchestra and Shenzhen Philharmonic Orchestra.
During February 2020, Ho has accomplished an Europe tour with the Hong Kong Chinese Orchestra and performed internationally in 7 concerts in 15 days in major venues in different countries including Lucerne (Switzerland), Brussels (Belgium), Dresden (Germany), Stuhr (Germany), Bonn (Germany), Budapest (Hungary), Austria.
Ho was invited to perform in World Harp Congress 2018 for New Music , world premiered the new piece 'Cantonese Images' by Paul Patterson in an international platform. She is also the performer for the Leading Professional of Asia concert in Seoul, Korea for the prestigious Asia Harp Festival 2016. And also served as a guest performer in Taiwan Harp Festival 2015.
In 2016, she also played in Oslo Chamber Music Festival, Young Euro Classic in Berlin Concert House and Concert in Copenhagen as an orchestral harpist. She had also worked with world renowned musicians such as Edward Gardner, Jac Van Steen, Langlang and Jian Wang.
Alice Ma
Graduated with a Bachelor of Fine Arts (Honors) Degree from The Hong Kong Academy for Performing Arts (HKAPA), majoring in Contemporary Dance and Choreography.In 2020, she received 'Tom Brown Emerging Choreographer' in the 22nd Hong Kong Dance Awards, she also awarded The Award for Yong Artist by the Hong Kong Arts Development Award 2021.
After graduation, she has actively involved in stage performances and explore in different media. She has also collaborated with other artists and arts groups including the Hong Kong Arts Festival (HKAF), New Vision Arts Festival, West Kowloon Cultural District, Hong Kong Repertory Theatre, Musica Viva, Music Lab and more. She has been a part-time instructor at City Contemporary Dance Company (CCDC) Dance Centre and HKAPA School of Dance since 2009 and 2016 respectively.

Recent works including Wu and Over-master by HKAF The Hong Kong Jockey Club Contemporary Dance Series, Soulless by E-Side Dance Company, WuDaoQingNian 2015 by CCDC and Upstairs Downstairs by Y-Space.
In 2019, Wu was selected for the New Dance for Asia – NDA International Festival in Seoul. In 2020, Over-master was invited to perform in Japan and Singapore, and nominated as 'Outstanding Choreography' for the 22nd Hong Kong Dance Awards.
Lau Pak Hong
Pak Hong Lau is a freelance dance artist graduated from the Cologne University of Music and Dance majoring in contemporary dance. He collaborated with different artists and ensembles including TS Crew, Y-Space, Folded Paper Dance and Theatre, E-Side Dance Company, Passover Dance, Absolutely Fabulous Theatre Connection, Make a Move Collective, MichaelDouglas Collective and Kammeroper Köln.
He participated as a chorus member in productions with Opera Hong Kong and the Hong Kong Philharmonic Orchestra. He also taught in organisations including Boys' and Girls' Club Association and New Life Psychiatric Rehabilitation Association to share his movement philosophy and somatic practices. He is an accountant, a certified POLESTAR®️ Pilates Mattress trainer and holds a bachelor and master degree in Physics.
Ticketing Info
Tickets will be available at URBTIX from 16 March onwards
Half-price tickets available for Full-time students, senior citizens aged 60 or above, people with disabilities and minders, CSSA recipients and membership cardholders of Alliance Française de Hong Kong (Limited quota, first come, first served)
Group booking

5% off for 4 - 6 standard tickets
10% off for 7 or more standard tickets
Audiences can enjoy only one of the above discount schemes for each purchase.
Please visit the ticketing information page for more details.
Co-presented by


Supported by