Flute Music by French Composers
Venue:
Y Theatre, Youth Square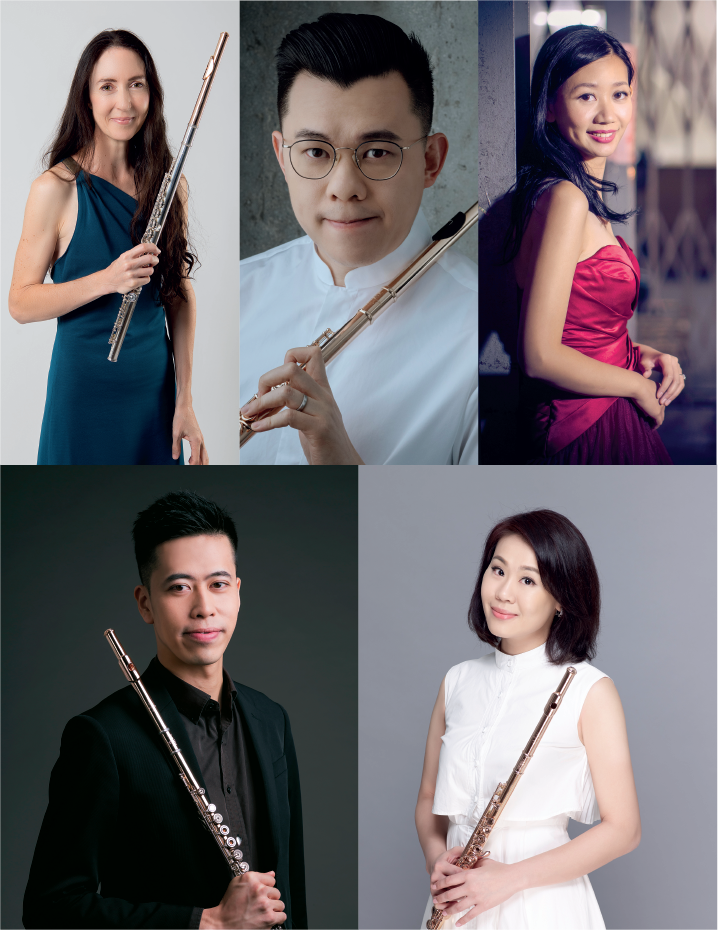 Flute Music by French Composers
The French school of flute playing is one of the most influential schools for modern flute playing. Paul Taffanel (1844-1908), the most important flutist and teacher, showed the world brand new possibilities of the silver version of the instrument. His playing was filled with elegance, flexibility and sensitivity which brought him the professorship in the Paris Conservatoire. He has nurtured lots of amazing flutists of all time and inspires composers to write for this beautiful instrument. We will guide you through the chronology of French flute music and bring you music from French baroque to modern days!
Programme
Flute Music by French Composers features solo, chamber works and arrangements for flute written by French composers from the past to present.
Biographies
Megan Sterling
Principal Flute of the Hong Kong Philharmonic since 2002, Megan Sterling has enjoyed working with some of the world's top conductors and soloists. She has appeared live on Australian national television and radio, Hungarian National Radio, RTHK, and in recitals on WGBH, Boston, and she has also performed at Parliament House for the Australian Prime Minister.
---
Ivy Chuang
Ivy Chuang is an acclaimed flutist and piccoloist from Hong Kong. Ivy maintains a distinctive and versatile career. A sophisticated, experienced and brilliant flutist, Ivy also possesses an impressive command of the piccolo. She appears regularly with the Hong Kong Philharmonic Orchestra, the Hong Kong Sinfonietta and other local orchestras.
---
Brian, Tsz Chun Chan
Brian is an experienced orchestral player, chamber musician, and teacher. He has performed with The Hallé, the Hong Kong Philharmonic, the Macau Orchestra, the City Chamber Orchestra of Hong Kong and the Hong Kong Winds Philharmonic. Since 2006, he has been the Guest Principal Flute of the Hong Kong Sinfonietta.
---
Alecx Chung
Born in Hong Kong, Flutist Alecx Cheuk-Fai Chung is an active soloist and performer, where he performed with notable flutists and musicians at home and abroad. He founded the Hong Kong International Flute Association (HKIFA) in 2017. The association has already held a number of concerts, masterclasses and events reaching thousands of audiences in Hong Kong.
Ticketing information
Tickets will be available at Hong Kong Ticketing
Programme and ticketing information: [email protected] 8206 2833
Presented by