Contrasting Confluences
Date:
03 MAY - 30 JUN 2022
Venue:
Whitestone Gallery
Admission :
Free Admission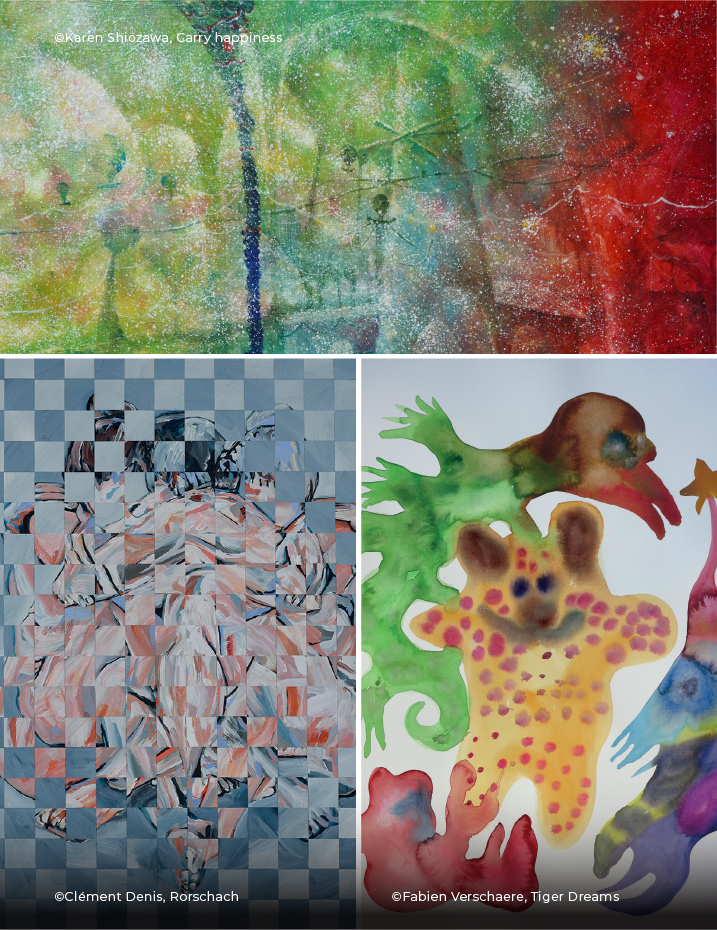 Contrasting Confluences
This exhibition showcases a selection of acrylic and watercolour on paper, each offering nuanced ways of looking and representing the world through highly subjective forms, questioning the value of symbols and the identity that a self-image can convey in the eyes of others. For his second exhibition at Hong Kong, Clément Denis deploys a symbolic geographical map in which works produced in recent years are in dialogue with previously unseen creations. He extends his world which highlight the often invisible yet palpable forces and links that shape our lives. At the age of 30, Clément Denis from the Loire Valley, is the first artist to take up residence in Claude Monet's house in Vétheuil.
With Fabien Verschaere, born in 1975 in Vincennes, a drawing is the immediate expression of an idea serving as a departure point for the creation of performances. His highly idiosyncratic work is characterised by a universe peopled with hybrid creatures, monsters and chimeras born of his unbridled imagination, since his childhood. He questions the value of symbols and the identity that a self-image can convey in the eyes of others. For this new exhibition, Verschaere is in dialogue with previously unseen creations.
Born in Kanagawa in 1988, Karen Shiozawa has lived in the Netherlands for many years as a child, and is currently studying at the Tokyo University of Fashion Research Institute. "Real true world – it would be the memory of the world which could once exist or the appearance of the future what I have not seen yet. People who saw my artworks recognize the worlds which could exist countlessly and can feel an admiration or nostalgia for the bright and unfathomable extent of space which can be seen through the gap of those worlds, then they can open many doors of imagination. Bridging people's consciousness to consciousness, recognition to recognition, I would like to create artworks which can capture people's voice of heart that people could not notice in the real world."
Biographies
Born in 1991, Clément Denis lives and works in Vétheuil, on the banks of the Seine. He graduated from the Fine arts School of Paris in 2018, and was awarded the Bv Collectors Award in 2019. A recognised figure in the French art scene, his work has been exhibited in numerous shows and has been collected since 2013. He is a poet, a sensitive, a spiritualist whose approach to art is a very physical one: he paints in acrylic very quickly with his hands spreading the colour on large canvases or sheets of heavy paper, and also works in mosaics. Like Hokusai and Monet, he paints in series, exploring a theme until he has achieved its total mastery.
---
Born in 1975 in Vincennes, Fabien Verschaere's artistic education was nurtured at Fine arts School of Paris and Fine Arts in Nantes. Extremely passionate about art ever since his challenging childhood, this artist followed the maxim: Nulla dies sine linea – No day without single line. Verschaere's work has been exhibited worldwide, from Paris to Milan, New York, Seoul to Abu Dhabi… He participated in events such as The Force of Art at the Grand Palais and also joined forces with Pierre Hermé when they created Itinérantes Residences, based on Verschaere's drawings. He won the Dena Foundation Art Award in 2001.
---
Born in Kanagawa in 1998, Karen Shiozawa spent several years of her childhood in the Netherlands and is currently a postgraduate student at Tokyo Zokei University. Shiozawa is consistently seeking to expand the realm of communication mediated through her work. While projecting her childhood memories and everyday feelings onto the two-dimensional works, she is also aiming to represent a world that is perceived through means other than sight by cultivating the ways of expression using sound, light, and three-dimensional forms.
Presented by


Co-organised by