Daphné Mandel: Hong Kong Time Rift
Date:
30 APR - 28 MAY 2022
Admission :
Free Admission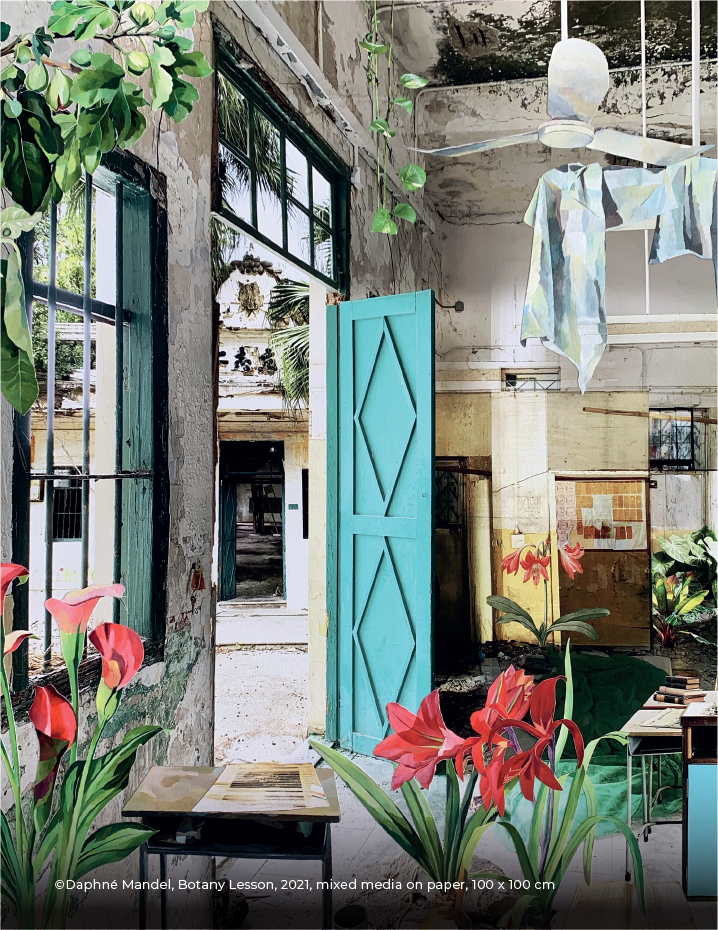 Daphné Mandel: Hong Kong Time Rift
Gallery EXIT is pleased to present Hong Kong Time Rift, the first solo exhibition of Daphné Mandel at the gallery. The exhibition will showcase the artist's assembled imagery reflecting Hong Kong's past and present through a series of new mixed media works on paper and videos, inspired by the artist's recent explorations of Hong Kong's hidden ruins and abandoned properties forgotten in the passage of time.
French but born in Lausanne, Switzerland, Daphné Mandel grew up in Paris and has been living and working in Hong Kong for many years. Mandel is trained in the fields of architecture, landscape architecture, and urban planning. Hong Kong Time Rift fantasises the evanescent ruins where the boundaries between present and past are blurred. It is a rift in time and space, a leap forward into the past. It is a homage to Hong Kong's paradoxical juxtaposition of innumerous ruins and rampant urbanisation. The inability to travel out of Hong Kong for an extended period of time due to the COVID pandemic in turn enabled the artist to explore the city in depth, leading to a further discovery of the myriad nooks and crannies of the city the artist once thought she already knew.
Biography
Daphné MANDEL (b. 1975, Lausanne, Switzerland), completed her diploma of architecture and urban planning in Versailles in 2000. Daphné credits her Dutch grandmother, a respected textile artist, Wilhelmina Fruytier, with instilling in her a deep appreciation of art and painting. Her works explore old Hong Kong's architecture while introducing imaginary and whimsical elements as a way to exploit the incredible urban paradoxes of this city in constant metamorphosis. Currently, Daphné is doing field research on Hong Kong's abandoned sites. Her explorations include locating and accessing these deserted places including villages, schools, theatres and cinemas, private villas and mansions. Her works have been included in solo and group exhibitions in various art institutions, including Hong Kong Time Rift (Gallery EXIT, Hong Kong, 2022), Hong Kong Vanitas (Hong Kong Museum of Medical Sciences, Hong Kong, 2017) and Small is Beautiful XXXIX (Flowers Gallery, London, 2021). She and her partner were awarded Best Young Urban Planning and Landscape Architecture Professionals by the French Ministry of Culture in 2006. Daphné co-founded the Paris based landscape architecture and urban planning firm Gilot&Mandel Paysage. The artist currently lives and works in Hong Kong.
Presented by