非凡美樂 × 法國五月《鋼琴名家在巴黎》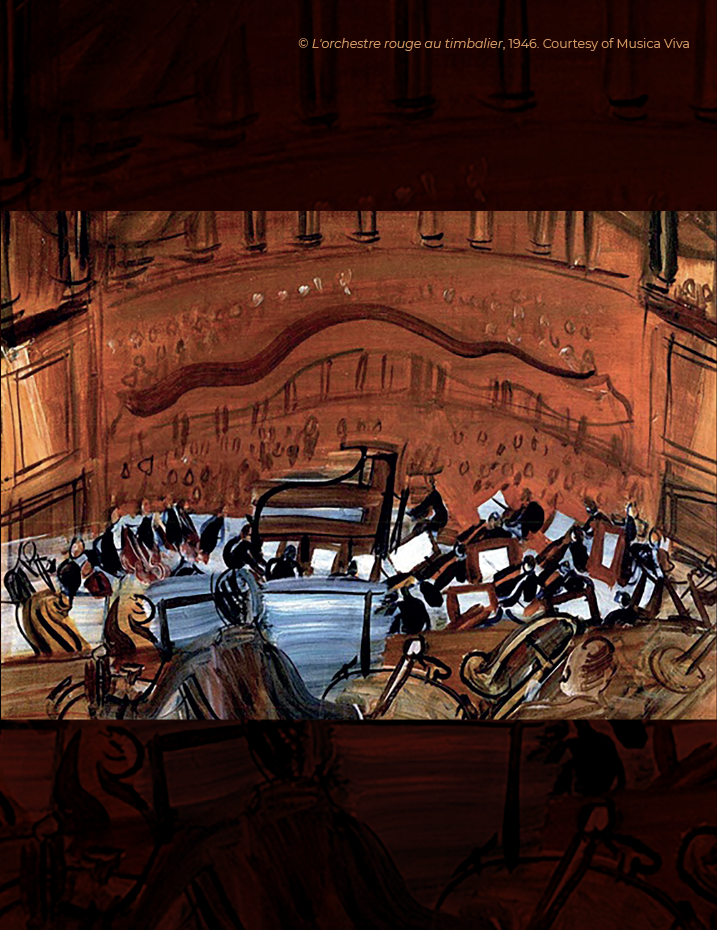 創作人員名單
藝術總監:盧景文
鋼琴︰黃蔚然、黃蔚園、鍾學進、黃思遠
Vanessa Wong Wai-yin 黃蔚然

Praised by Gramophone magazine for "impressive…innate musicality and technical mastery", young Steinway Artist pianist Wong Wai-yin was the recipient of a number of international awards. She was the youngest First Prize Winner of the Southern Highlands International Piano Competition in Australia, Second Prize Winner of the 17th Hilton Head International Piano Competition in the US, and was the youngest Gold Medal winner in the 7th International Competition for Young Pianists in Memory of Vladimir Horowitz with five special prizes.
Wong has appeared in solo performances with a number of orchestras including the Hong Kong Sinfonietta, Canberra Symphony Orchestra of Australia, National Symphony Orchestra of Ukraine, New Haifa Symphony Orchestra of Israel, the Hilton Head Symphony Orchestra, Yale Philharmonia and Macao Orchestra.
She has given recitals at the Concertgebouw of Amsterdam, Salle Cortot in Paris, Steinway Hall and Carnegie Hall in New York, and Poly Theatres in Beijing, and was also invited to give opening recitals at the Newport International Festival in the US, the 39th and the 46th Hong Kong Arts Festivals, and the Hong Kong City Hall Virtuosi Series. Solo recitals have also been presented in Brisbane, Canberra, Washington D.C., Chicago, Vancouver, San Francisco, Los Angeles, and Egypt. She is an active chamber musician and has performed frequently with members of the Chamber Music Society of Yale Club of Hong Kong.
In 2019, Wong released her debut CD on the Naxos label: Liszt's Transcriptions from Operas by Auber and Verdi.
Wong completed the Artist Diploma program at the Yale School of Music. Before that, she completed her Bachelor of Music degree with First-class honours at The Hong Kong Academy for Performing Arts, and Master of Music Degree at the Peabody Conservatory of Johns Hopkins University. Her teachers include Gabriel Kwok, Hui Ling, Boris Slutsky and Boris Berman.
Wong was the recipient of the Hong Kong Jockey Club Music and Dance Fund, Lady Fung Scholarship, and the Asian Cultural Council Scholarship. She was awarded a Certificate of Commendation by the Hong Kong Government in recognition of her outstanding achievements in the promotion of international arts and culture activities.
Valerie Wong Wai Yuen 黃蔚園
Born in Hong Kong, Valerie Wai Yuen Wong is an undergraduate of music at the Hong Kong Academy for Performing Arts study under Professor Eleanor Wong. At young age she was a junior music student under Miss Julie Kuok.
Wai Yuen has performed in various events: in addition to holding recitals in Hamburg, Beijing and Xiamen, she has collaborated twice with the Hong Kong Children's Symphony Orchestra and the Hong Kong Pan Asia Symphony Orchestra as a soloist. She performed at the 42nd Hong Kong Arts Festival - "Magic Piano & The Chopin Shorts" and at the 46th Hong Kong Arts Festival -"Beyond Impressionism". She also performed a solo and trio in the 'Grow up with Music Concert' and performed constantly at the 'Musica del Cuore'.
She has won numerous prizes in Hong Kong and overseas, including the 2nd prize in the Solo Piano Competition of the Beijing International Music Festival . The 1st prize at the HKGNA Music Competition. The 2nd prize at the International Piano Competition for Yong Musicians, Enschede of the Netherlands with Press Award and Audience Award. The 3rd Prize in the Korea International Competition for Young Pianists.
She also won the First Prize and Professional Grand Prize at the 75th Steinway & Sons International Youth Piano Competition in Beijing and was invited to perform at "The International Steinway Art Festival" held in Hamburg, Germany, representing China.
She was also awarded the First Prize at the 65th Llangollen International Musical Eisteddfod in Wales, UK; the Asia Hong Kong Open Piano Competition and The Asian Youth Music Competition; 2nd Prize in Beijing Zhou Guang Ren Young Pianist Award.
She has also performed in the piano master classes with Gary Graffman, Jerome Lowenthal, Graham Scott, Fanny Waterman, Joyce Yang, Sequeira Costa, Francois Chaplin, Alexander Braginsky, Fernando Garcia Torres, Ilya Itin , Mikhail Ruby, Saleem Ashkar, Lee Kum Sing, Jean-Claude Pennetier, Alan and Alvin Chow, Alexander Korsantia and Lang Lang.
Wai Yuen is the awardee of serval scholarships including the Cecil Leong Scholarship, the HKAPA Piano Alumni Scholarship, the Great Eagle Scholarship and Mr. & Mrs. Kenneth Fung Scholarship to attend the Boston International Music Festival .
In 2013, she was awarded the Certificate of Commendation by the Hong Kong Government for her outstanding achievements in the promotion of international arts and culture activities.



Andy Chung Hok-chun 鍾學進
Born in 1994 in Hong Kong, Andy Chung Hok Chun is currently in his first year studying as a postgraduate at the Royal Academy of Music with Professor Christopher Elton. Andy started playing the piano at the age of nine. In 2008, he was admitted to the Junior Music Programme in Hong Kong Academy for Performing Arts, and studied the piano under Professor Gabriel Kwok. He was the first Hong Kong pianist who received the ABRSM Scholarship in 2012 when he started his Bachelor Degree in HKAPA.
Andy has received piano master classes from many distinguished pianists, including Michel Dalberto, Aquiles Delle Vigne, James Giles, Manfred Fock, Douglas Humpherys, Victor Rosenbaum and Emanuel Krasovsky. In 2014, he participated in the International Keyboard Institute and Festival in New York and the 'Art of the Piano' festival in Cincinnati. He performed at the Wiener Saal in Salzburg while taking part in the Mozarteum Summer Academy 2015, and received a special prize from the music director for his excellent interpretation of the Barber Piano Sonata. In 2016, he received a full scholarship for Mozarteum Summer Academy.
Andy has participated and won prizes in various local and national competitions, including Hong Kong-Asia Piano Open Competition, Asian Youth Music Competition, and Steinway & Sons International Youth Piano Competition. He has performed in major cities in China, such as Beijing, Xiamen, Guangzhou and Shenzhen, and in 2016, he was invited to give a piano recital in University of Shantou.
He is grateful for the support of the Lady Muriel Kadoorie Music Schoarship for his Masters degree at the Royal Academy of Music.
(source: https://www.pianoaccompanists.com/profile-andy-chung )
Jason Wong Sze Yuen 黃思遠
Hong Kong born pianist WONG Sze Yuen , has been a regular prize- winner at the piano competition since young. Recent awards included First prizes of the 18th International Chopin Piano Competition in Asia (Tokyo, Professional Category), the International Competition Hamburg Composers – ICoM Piano Award in Germany and the 6th Asian Youth Music Competition. Sze-Yuen was invited to make his debut in New York Carnegie Hall Weill Hall in July 2017. He has also given concerts in United Kingdom, United State, Paris and appeared as soloist with Hong Kong Pan Asia Symphony Orchestra, Academy symphony orchestra of the Hong Kong Academy for Performing Arts and Philharmonia APA.
As a frequent visitor to international music festivals as a soloist, Sze- Yuen participated in different prestigious events such as Aspen Music Festival, Mozarteum International Summer Academy, ICoM Piano Summer School in Hamburg. During these festivals, he received guidance from the renowned pianists Arie Vardi, Pavel Gililov, Anton Nel and Fabio Bidini. In addition, he also took part in masterclasses with Dang Thai Son, Eliso Virsaladze and Michel Dalberto amongst many other renowned pianists.
Sze-Yuen obtained his Bachelor of Music degree at The Hong Kong Academy for Performing Arts under a full scholarship and with First Class Honours. Following that he furthered his studies at the Royal College of Music under a full scholarship by The Muriel, Lady Kadoorie Music Scholarship and graduated with a master degree in piano performance with Distinction. His previous teachers including Dmitri Alexeev, Gabriel Kwok.
節目
聖桑
《奧弗涅狂想曲》,作品73
《意大利的回憶》,作品80
佛瑞
《孔雀舞曲》,作品50
《西西里舞曲》,作品78
《夜曲第四首》,作品36
德布西
《牧神之午後前奏曲》
《月光》
《水中倒影》
《棕髮女孩》
《第一阿拉伯風派斯勒》
拉威爾
《古風小步舞曲》
《悼念公主的帕凡舞曲》
《小丑的晨歌》
序曲及快板
合辦機構


資助